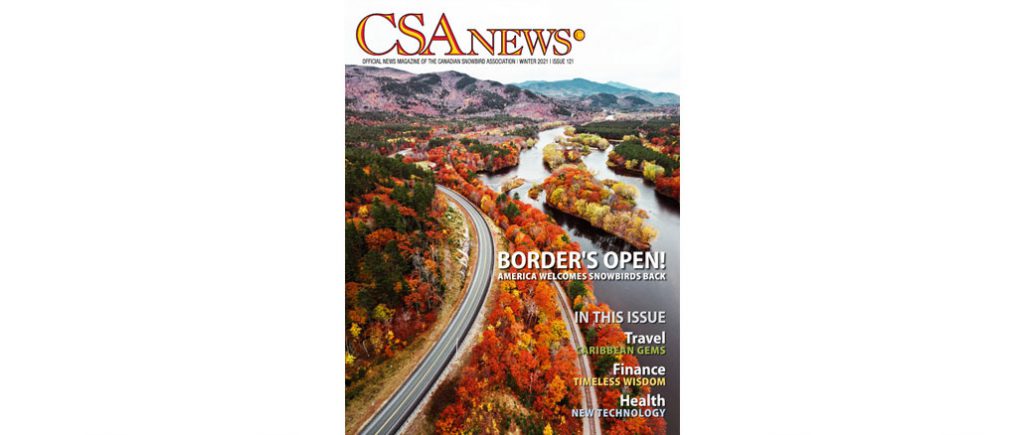 Winter 2021
It was probably the largest prison break in history. Tens of thousands of snowbirds rushed for the Canada/U.S. border after enduring a 20-month lockdown. The border was open – it was November 8, 2021.
After emerging from their homes, they were first greeted by a massive display of fall colours that made the escape even more memorable. The sense of freedom was almost overwhelming.
But, and there is always a "but," most of your travel freedoms will depend on you getting vaccinated and I But the dreaded border crossing still lay ahead. Three-day lineups and cranky border guards were expected, but they were ready. That would be a minor inconvenience compared to the lockdown.
But….SURPRISE!
Sure, there were lineups, but they were very minor in nature and the lines moved quickly, perhaps faster than they ever have. AND the border guards were the most gracious and understanding that they have ever been. They were fast, efficient and they had a smile for everyone. Their most common statement was "Welcome Back." I think that they may have missed us.
Enjoy your new-found freedom and may this Holiday Season and the New Year be your best ever.
J. Ross Quigley
Editor
P.S.: We and CSA are working very hard to make our Spring return to Canada simple and uncomplicated. I think that we will succeed.
When I started my family practice in the mid-sixties, the availability of technology to assist in diagnosing and treating many conditions was very limited. Imaging was restricted to X-ray machines and ultrasound was just beginning […]