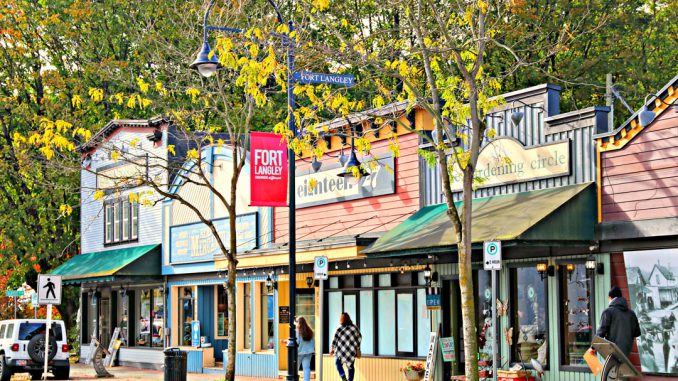 Canadians eagerly awaiting the green flag to start their exodus across the U.S./Canadian border need not wait any longer.
As with Robert Frost's two paths diverging in the woods, the COVID pandemic hit a fork in the road for Canadian snowbirds.
All of the leaves are changing, the temperature is falling and the sky is gray… I'm just mentally preparing for winter. I love the crispness in the air… perhaps because it triggers a snowbird response which tells me that it's time to start packing the RV for travel to warmer climes. Georgia O'Keefe said, "I have done nothing all summer but wait for myself to be myself again" and, while that's not really the whole story of what I did this summer (I'm guessing that Georgia O'Keefe wasn't dealing with back-to-back years of a pandemic), it's pretty close!
As I write this winter column in late October, the U.S. Department of Homeland Security (DHS) has recently announced that fully vaccinated Canadian travellers will be permitted to enter the United States via the land border for non-essential purposes effective November 8, 2021. When entering the United States for tourism purposes, travellers will be required to provide proof of full vaccination against COVID-19, such as their provincial vaccine receipt or QR code.
It has been confirmed by the Biden Administration that international visitors who received a full course of any WHO-approved vaccine, such as Pfizer, Moderna or AstraZeneca, will be recognized as fully vaccinated. Further, the U.S. government will also recognize travellers who received mixed doses of any WHO-approved vaccines as fully inoculated against COVID-19.
Canadians entering the United States at a land crossing will not be required to provide proof of a negative COVID-19 test. However, all air passengers arriving in the U.S. from a foreign country are required to get tested for COVID-19 with a viral test no more than three days before their flight departs, and must present the negative result or documentation of having recovered from COVID-19 to the airline before boarding the flight.
After a winter spent away from sunnier climates, many fully vaccinated snowbirds are set to make the trip south this year. But, with the Delta variant surging in different parts of North America, some snowbirds are weighing their options as to the best way forward… especially with the U.S. land border reopening to Canadians on November 8.
This eagerness to travel to warmer climates in the winter is evident, but there's an element of the snowbird population that's taking a "wait-and-see" approach, as well as some who are planning actively for a more uncertain future.
Arizona and Florida are the ultimate destinations for Canadian snowbirds. Arizona has become home to many snowbirds during the winter season. Canadians have contributed to Arizona's economic growth with billions of dollars from tourism.
In 2020, there was a significant decrease from one million snowbirds to 200,000. Now that U.S. borders will open up to Canada in November, Arizona is hoping to see that rise again.
"We're hoping and praying that they come back, but it's not a given. So, we keep telling everyone in Arizona that I hope you're marketing to the Canadian tourists and snowbirds, because they have choices," said Glenn Williamson − the CEO and founder of Canada Arizona Business Council.
By the time you read this, we will be basking in the sunshine (not likely) as we prep ourselves for a second winter in the Lower Mainland of British Columbia. We'll spend the winter in a campground at Fort Langley, less than 80 km east of Vancouver.
Fort Camping has been running a winter program for a decade but last winter, they had a number of new people come from the Prairies and as far east as Ontario and Quebec, who would normally drive their RVs to the U.S. Sunbelt.
The Lower Mainland of British Columbia may not be the best place for seniors. For weeks on end, it was cloudy and rained incessantly. Decades ago, research in Holland found a strong relationship between hours of sunlight in winter and the mortality rate among seniors: The more sunlight, the lower the death rate, and vice versa.
But it has two meritorious features: The campground sits on an island in the Fraser River with numerous walking paths and hiking trails, both inside the campground and on the outer reaches of the island on the Tavistock Trail. And the campground is within easy walking distance of the Village (Fort Langley) with its unique shops, boutiques and sidewalk cafes. I welcome the variety of choice.
As I ponder what it means to be a Canadian snowbird in the time of the COVID pandemic, my mind goes to Anne Murray and her famous song, Snowbird.
In the summer of 1970 Anne Murray released Gene MacLellan's song, Bidin' My Time. A DJ at a radio station in Cleveland flipped the single and played the B-side, another song by MacLellan called Snowbird. The track quickly became popular with local listeners, and eventually went on to become a surprise hit worldwide. The song sold more than one million copies in the United States − making Anne Murray the first Canadian female artist to receive a gold record in that country − and established the careers of both Murray and MacLellan.
Located in Springhill, Nova Scotia, the Anne Murray Centre had hoped to celebrate the 50th anniversary of that remarkable accomplishment last year with a live event, but COVID put those plans on hold.
With the pandemic still affecting travel and live events, the centre decided to present an online celebration − 50+ Years of Snowbird − on its Facebook page.
Anne was a big fan of MacLellan's songwriting and would end up covering more than half a dozen of his songs. In her book, All of Me, Murray said, "Gene was not only a hugely gifted songwriter, but also one of the most naturally soulful singers I've ever heard. He was a sweet, shy man of uncommon humanity, with a wonderful sense of humour."
Gene's daughter, Catherine MacLellan, took part in this online event.
"It's a beautiful, broken-hearted love song," said MacLellan. "It's a really simple song that for some reason just keeps living on. No matter where I've been in the world, from Australia to the U.K. and Europe, people remember and love that song. It fascinates me. It took off in a way no one expected."
The song symbolizes the relationship between her father and Murray, she said, and it's one of which she believes her late father was very proud. She said that he was pleased to see Murray receive international acclaim, which helped open the lucrative international market to Canadian singers and songwriters.
"Anne was really the first Canadian music superstar that made it big across the world," said MacLellan who is an accomplished singer/songwriter in her own right, having released seven full-length albums.
She has won multiple East Coast Awards, Canadian Folk Music Awards and P.E.I. Music Awards, as well as a Juno in 2015 for her album, The Raven's Sun.
In 2017, Catherine released If It's Alright With You, a tribute album to her father, and created a stage show by the same name. She also produced an award-winning documentary about him called The Song and the Sorrow.
She will be interviewed by author Charlie Rhindress, who has written bestselling books about Rita MacNeil and Stompin' Tom Connors and is currently working on a book about Nova Scotia's most accomplished female singers, including Murray.
"I have spent most of my career telling Atlantic Canadian stories and celebrating people from the region, so I am thrilled to talk to Catherine about her father and Snowbird," Rhindress said. "The year Snowbird swept the Juno Awards, Anne jokingly referred to herself, Gene and her producer Brian Ahern as the Maritime Mafia. That song was instrumental in putting the East Coast of Canada on the map as a force to be reckoned with in the music industry."
The two will discuss the relationship between Anne and Gene, as well as the history of Snowbird and some of Gene's other songs which were covered by Anne, including Put Your Hand in the Hand, The Call, and Bidin' My Time. MacLellan will also discuss her father's musical legacy and perform some of those songs which Murray recorded.
The Anne Murray Centre was not able to open in 2020 due to COVID-19 and had a shortened season this year. To stay connected with its supporters, the centre has hosted a series of online events over the past year.
Snowbird
Beneath this snowy mantle cold and clean
The unborn grass lies waiting
For its coat to turn to green
The snowbird sings the song he always sings
And speaks to me of flowers
That will bloom again in spring
When I was young
My heart was young then, too
Anything that it would tell me
That's the thing that I would do
But now I feel such emptiness within
For the thing that I want most in life's
The thing that I can't win
Spread your tiny wings and fly away
And take the snow back with you
Where it came from on that day
The one I love forever is untrue
And if I could you know that I would
Fly away with you
The breeze along the river seems to say
That he'll only break my heart again
Should I decide to stay
So, little snowbird
Take me with you when you go
To that land of gentle breezes
Where the peaceful waters flow
Spread your tiny wings and fly away
And take the snow back with you
Where it came from on that day
The one I love forever is untrue
And if I could you know that I would
Fly away with you
Yeah, if I could you know that I would
Fl-y-y-y-y away with you
by Rex Vogul