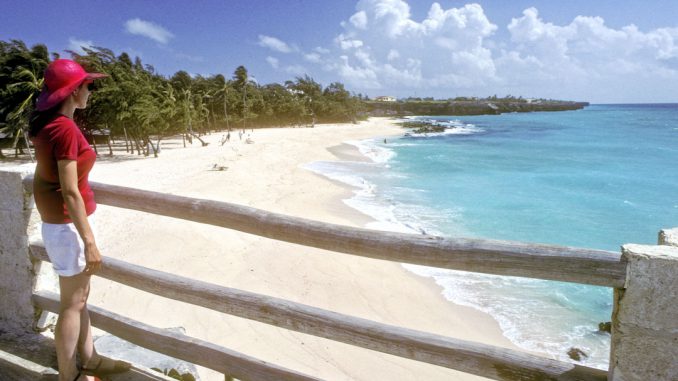 These sunny, warm-weather getaways offer snowbirds plenty to see & do
Are you considering an idyllic Caribbean island for your next winter trip? We are too.
Just thinking of the Caribbean conjures up memories of spectacular sunsets, pristine beaches, swaying palm trees, enticing resorts, tropical flowers and vibrant cultures. During numerous visits, we've enjoyed African, British, Dutch, French and Spanish influences in the islands' foods, festivals, music and attractions.
Here's an alphabetical roundup of some of our favourite islands with two suggestions for don't-miss activities on each one. Check tourist board websites for vaccination and Covid-19 protocols at the time you plan to visit.
Antigua & Barbuda
For Antigua's best view, drive up to the 150-metre-high Shirley Heights Lookout. From the restored military fortifications, you'll enjoy spectacular bird's-eye views of the island, especially at sunset.
A restaurant in a former military building serves a mouth-watering barbecue on Sunday evenings. Try the jerk chicken and ribs. Pending Covid-19 restrictions, the venue hosts Sunday evening parties with live steel band music and dancing enjoyed by both tourists and locals.
Antigua is known for its 365 beaches – one for every day of the year. Especially pretty are the cameo-pink beaches on Barbuda, Antigua's sister island.
The best way to see these is on the twice-weekly day tours operated by Barbuda Express. They include the 90-minute ferry ride from Antigua and a visit to the western hemisphere's largest frigatebird colony, where you can observe male frigates puffing up their crimson chest pouches to attract females. www.visitantiguabarbuda.com
The Bahamas
Located 80 kilometres off Florida's east coast, The Bahamas is comprised of 700 islands and cays, with 16 unique island destinations.
Among its numerous resorts, Atlantis Paradise Island – a 10-minute drive from Nassau – must be seen to be believed. In addition to three beaches, 11 pools and many hotel amenities, it features the world's largest resort marine habitat. More than 50,000 aquatic animals represent 250 marine species, ranging from sharks to stingrays.
A 141-acre water park includes thrilling water slides for the grandkids and a meandering Lazy River Ride where you can leisurely float on multicoloured tubes through tropical landscapes. A golf course, spa, casino and evening entertainment ensure that you won't run out of things to do.
To shop for duty-free items and Bahamian souvenirs – ranging from handmade straw hats and bags to conch shell jewellery – visit Nassau's huge Straw Market. Haggling is part of the fun! www.bahamas.com
Barbados
At the Barbados Wildlife Reserve, 20 minutes from the capital of Bridgetown, dozens of frolicking, chattering green monkeys are not in cages. Neither are you, as you stroll through their forested domain.
They're called "green" because their brown-and-grey coats have an olive-green sheen in the sunlight. The best time to see them is during their afternoon feeding time.
Barbados celebrates everything from rum and golf to reggae music and field hockey at year-round special events. For dazzling costumes, steel band music and street fairs, it's hard to beat Barbados Crop Over, which marks the end of the sugar cane harvest.
Festivities include parades, calypso performances, dancing and traditional foods and drinks. Costume competitions are explosions of colour, with sparkling sequins and feather-covered headpieces. The designers' creativity will amaze you. www.visitbarbados.org
Cayman Islands
Although you can observe butterflies, crocodiles, sharks, parrots, peacocks and other birds at the Cayman Turtle Centre: Island Wildlife Encounter, sea turtles are the prime attractions.
At the Breeding Pond, view swimming green sea turtles and look for beach nests where females lay their eggs from May to October. Check the box office for times when staff feed the turtles or buy a package of turtle food to feed them yourself.
For even closer encounters, visit the turtle touch tanks or swim and snorkel with them in the turtle lagoon.
Hell is only a pitchfork's throw from George Town, Grand Cayman's capital. A field of jagged black limestone engendered the small town's name.
At Hell Post Office, you can mail postcards and shop for satanic souvenirs, including mugs, hot sauce and T-shirts proclaiming: "I've been to Hell and back!"
The road to hell is signposted with good directions. www.visitcaymanislands.com/en-ca
Grenada
The Caribbean's Isle of Spice is known for its nutmeg. At the Gouyave Nutmeg Processing Station, you can watch staff process the spice. Tour guides explain the manual process of drying, grading and packing nutmeg.
Did you know that oil from the nut adds heat to Vicks Vapo Rub®? Island restaurants serve delicious banana breads, sweet potato pies, Planter's Punch and ice cream flavoured with grated nutmeg.
Visit the Saturday morning market in the capital, St. George's. It's a lively place where you can buy spices as well as fruit, vegetables and handicrafts. www.puregrenada.com
Jamaica
Bamboo rafts were originally used to transport bananas and other cargo along the Rio Grande. Actor Errol Flynn first persuaded the boatmen to bring him and his friends on torchlit trips along the river at night. (Jamaica's Port Antonio area was a hideaway for rich-and-famous people such as Flynn, Noël Coward, Bette Davis and Ginger Rogers.)
Passengers sit on padded two-passenger benches on skinny nine-metre-long bamboo rafts, steered by boatmen using long poles. They view mountainous groves of bamboo, coconut and mango trees along the serpentine river route.
The 13-kilometre journey lasts 2 ½-hours, so there's plenty of time to listen to singing birds and view banana trees, sugar cane, allspice, wild ginger and orchids along the riverbanks.
Jamaica's many all-inclusive resorts, hotels, inns, guesthouses, villas and apartments are also visitor magnets. You can even stay in a castle and a luxury treehouse. www.visitjamaica.com
Puerto Rico
El Yunque – located 40 kilometres southeast of Puerto Rico's capital, San Juan – is the only tropical forest in the U.S. National Forest System. Lush greenery and multi-hued flowers punctuate the hiking trails.
Look for dime-sized orchids, giant tree ferns and weathervane trees with leaves that turn white-side-up whenever it's going to rain. After hiking, relax on nearby Luquillo, a postcard-perfect, palm-lined beach.
In Old San Juan, don't miss Castillo San Felipe del Morro (called El Morro for short). Stroll along the bastion of the impressive six-level citadel to view barracks, dungeons, storerooms and original cannons.
Constructed between 1539 and 1790 to protect the island from attackers, the fortress saw many battles, but was never been defeated. The landmark is now a National Park Service museum. www.discoverpuertorico.com
Saint-Barthélemy (also called St. Barth, St. Barts & St. Barths)
Few experiences are as much fun as exploring 21-square-kilometre St. Barts in a rented manual or electric Mini Moke.
Before starting your driving tour, visit the charming capital Gustavia, known for its duty-free boutiques and pâtisseries. The French food and language remain from the years when France owned the island.
More than a dozen beaches line the 48 kilometres of winding, rollercoaster roads. Each has its own personality.
Baie de St-Jean boasts seaside restaurants serving poisson grille and pommes frites. Lorient offers great swimming, while Grand Fond features crashing surf.
Corossol is home to fishermen who beach their colourful wooden boats on the sand. Flamands, the island's largest crescent of white sand, is a picturesque cove enclosing gin-clear water. www.saintbarth-tourisme.com/en
St. John (United States Virgin Islands)
The smallest of the three major U.S. Virgin Islands, St. John is two-thirds National Park. Although the island is only 15 kilometres long, it boasts beautiful beaches, such as Trunk Bay – known for its underwater snorkelling trail.
Hawksbill sea turtles lay eggs on Hawksnest Bay's beach. In the 1981 movie Four Seasons, Alan Alda and Carol Burnett went skinny dipping here.
More than 20 hiking trails spiderweb Virgin Islands National Park. Annaberg Historic Trail preserves the remnants of the last surviving sugar plantation on St. John. They include slave quarters, the bread oven and a sugar mill, built in 1810. The half-hour, self-guided trail is both informative and poignant. www.visitusvi.com/st-john
St. Maarten / St. Martin
It's not surprising that the lush scenery draws artists to the two-nation island of Sint Maarten (the Dutch side) and Saint Martin (the French side). You can visit more than a dozen art galleries and talk to landscape, abstract, impressionist and contemporary artists in the studios where they compose their works.
Antoine Chapon, for example, creates limited-edition pastel prints, watercolours and oils inspired by island seascapes and boats. Also working from his home studio is Francis Eck, who uses a palette knife and trowel to create thick layers of primary colours on canvas.
Looking for something more adventurous? The island is home to several deep-sea fishing companies. Charters include the crewed boat, equipment, bait and experts who provide tips, whether you're a novice or experienced angler. www.vacationstmaarten.com www.st-martin.org
St. Thomas (United States Virgin Islands)
Are you a bargain-hunter? Stores and numerous shopping malls in downtown Charlotte Amalie – the St. Thomas capital – sell duty-free liquor, electronics, cameras, jewellery and other items.
Leave plenty of time to experience the five-acre Coral World Ocean Park on the northeast coast. It features an 80,000-gallon coral reef aquarium, pools, wildlife trails, a walk-through aviary and an undersea observatory where you can view marine life without getting wet.
During tours, talks and feedings, naturalists answer questions about resident sharks, stingrays, sea lions, turtles, dolphins, iguanas, macaws and rainbow lorikeets.
Bringing the grandchildren? They'll love the starfish in the touch pool. https://visitstthomas.com
Tortola & Virgin Gorda (British Virgin Islands)
Although Tortola is the largest of four large islands and 50 smaller ones in the archipelago, it measures only 16 kilometres long and four kilometres wide. Sage Mountain National Park is the 523-metre-high focal point.
You'll discover giant bullet wood and mahogany trees along the trails in the 86-acre park. Enormous elephant ear philodendron vines climb their trunks.
Signs identify stinking fish trees (which don't smell) and pitch apple trees. Years ago, people scratched messages on their leathery leaves and used pitch from the fruit to caulk boats.
Don't miss the Baths on Virgin Gorda – the third largest of the British Virgin Islands. The national park is a series of small, sandy beaches and coves, separated by granite boulders. Some rocks are as large as houses. Others look like whales, shaded by coconut palms.
You can climb over and around the rocks and through arches into a maze of wind-and-water-carved passageways. Some tunnels lead into caves with cathedral ceilings. Bring your snorkels to view the fish. www.bvitourism.com
Trinidad & Tobago
On a driving tour around Trinidad, you'll discover quiet roads framed by natural archways of coconut palms, golden beaches and cacao, coffee and banana plantations. Coffee and cocoa beans dry in the sun on driveways and front yards.
In contrast, Chaguanas Market is a bustling bazaar, pungent with spices and burning incense. You'll find yams, plantains, lemons and shell jewellery here, as well as coconut-palm brooms.
Watch for vendors selling green coconuts. Using razor-sharp machetes, they'll hack off the tops so that you can enjoy the refreshing water inside.
A short flight from Trinidad brings you to Tobago. Hibiscus blossoms, fishing villages and tropical birds characterize the 44-kilometre-long island. The palm-lined beach at Pigeon Point is the highlight.
https://visittrinidad.tt www.visittobago.gov.tt
Notice some missing islands?
How about (alphabetically) Anguilla, Aruba, Bonaire, Cuba, Curaçao, Dominica, Dominican Republic, Guadeloupe, Martinique, Montserrat, Saba, Saint Kitts and Nevis, Saint Lucia, Saint Vincent and the Grenadines, Sint Eustatius and Turks and Caicos?
They're all on our bucket list, along with more destinations in The Bahamas and British and U.S. Virgin Islands.
Judging by the number of islands in this list, we can look forward to many more sunny Caribbean vacations.
Barb & Ron Kroll publish the trip-planning website www.KrollTravel.com
Story and photos © Barb & Ron Kroll