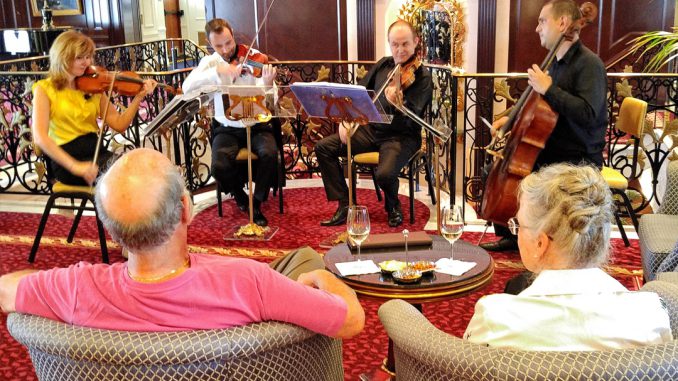 Incorporate some local music into your itinerary when it's safe to travel again
There's nothing like music to bring back memories of a wonderful vacation. Recordings and performances can also inspire wanderlust for future trips. The Sound of Music, for example, generated years of tourism to Austria.
As you build your post-pandemic travel wish list, schedule some regional music into your plans. It will undoubtedly enhance your cultural appreciation of the destination.
To start you on your musical journey, here are some melodious highlights from our trips, ordered alphabetically by location.
Australia
When we think of "the land down under," we recall the haunting sounds of the world's oldest woodwind instrument. The didgeridoo is central to Australian indigenous culture. Musicians mimic the sounds of native animals by blowing through these traditional instruments. The rhythmic tapping of wooden clapsticks sometimes accompanies them.
You can hear didgeridoos on some of the Aboriginal Cultural Experiences described in a downloadable brochure on the Tourism Australia website. Tour participants learn about boomerangs, as well as bush food, Aboriginal art, Outback wildlife and traditional Dreamtime stories.
Austria
We encountered classical music throughout Austria ̶ in concert halls, restaurants, hotels, festivals and on street corners. Our most memorable experience was listening to a cellist and two violinists in the elaborate ballroom of Schönbrunn Palace in Vienna.
The Blue Danube is sometimes called the second Austrian national anthem. We enjoyed an exquisite rendition of the famous Strauss waltz by the Vienna Boys' Choir. Dressed in blue-and-white sailor outfits, the choir's repertoire includes madrigals, classic and contemporary pieces, as well as operas.
You can hear their clear-as-crystal voices in Vienna's MuTh concert hall, at Imperial Chapel Sunday services between September and late June and when the choir boys are on tour around the world, performing more than 300 concerts annually.
Bhutan
Although most people enjoy local music in theatres and clubs, we discovered that temples were the best places to hear traditional music in Bhutan. In Thimphu Temple, in Bhutan's capital, we watched spellbound as monks blew horns and beat drums during ritualistic ceremonies.
During the annual Thimphu Tshechu fall festival, horns, drums and clashing cymbals accompany masked dancers as they twirl and leap, symbolically stomping out evil spirits.
Caribbean
You can't miss traditional pan music when you visit the Caribbean islands. It's a highlight of annual Carnivals in Trinidad & Tobago and on other islands, but you can also hear steel band music at the Toronto Caribbean Carnival, North America's largest cultural festival. Don't be surprised if the contagious beat inspires you to dance.
Musicians play a variety of genres on steel pans ̶ from jazz to classical music ̶ but calypso is the most popular. We heard impressive pan music performances at the Barbados Crop Over Festival, where crowds fill stadiums to watch steel band competitions.
China
Even if you don't understand the lyrics, a Beijing (Peking) opera performance is fascinating, with its traditional music, songs, dances, mime, acrobatics, colourful costumes and elaborate makeup.
We first viewed the art form in Beijing. The cast depicted folkloric and historical themes involving emperors, empresses, servants, clowns, marriages and sword-wielding martial artists. You can also see performances in Taiwan, Hong Kong and in some international Chinese communities.
Greece
Bouzouki music is synonymous with Greece. We enjoyed traditional folk music played on these long-necked lutes in Greek tavernas and at festivals.
Invariably, the fast-paced music motivates listeners to dance. The syrtaki is one of the most popular dances, done Zorba the Greek-style with outstretched arms thrown across each other's shoulders.
India
In the Indian state of Rajasthan, most musicians don't have formal musical training. Fathers pass on their instruments and the techniques for playing them to their sons.
One highlight of our visit was the folk music created by a man blowing into an earthenware pot, while a fellow musician played a 17-string bowed instrument called a kamaicha.
The music played on an ancient sarangi ̶ a broad-necked fiddle carved from a single piece of wood ̶ was equally mesmerizing. A mustached man played a morchang (jaw harp) to create a realistic rendition of the sound of a train. He appeared to be playing his mustache.
Ireland
Anyone who has heard Riverdance music will recall the sound of bodhrans (also called Celtic drums or Irish frame drums). They vary in size, but they all have bentwood frames and goatskin playing surfaces.
Musicians hold the drums vertically on their knees and strike them up and down with sticks. At times, their hands move so quickly that they blur.
By positioning their hands in different locations inside the drum, they create different tones. Some people claim that the bodhran sounds like an Irish heartbeat. Others say that it's more like a sack of potatoes tumbling down the stairs.
The Irish harp is another remarkable instrument that we heard in Ireland. We'll never forget the enchanting melodies of Greensleeves and Danny Boy that tugged at our emotions as the musician plucked the harp's strings.
Japan
During a Japanese cultural show in Tokyo, we enjoyed music played by kimono-clad women on kotos (13-string zithers). The instruments were first used in the Imperial Court. They are now occasionally played in combination with western music.
The show also featured a gagaku (court music) ensemble. As we listened to the musicians playing flutes, mouth organs, drums and gongs, we time-travelled back to the 8th century, when China introduced the classical music to Japan. We also heard gagaku musicians during sacred rites in some shrines and temples.
Korea
The traditional Korean kayagum (12-string zither) resembles the Japanese koto. It was also once used to play court music.
A musician wearing elegant hanbok clothing entertained diners with classical kayagum music in our Gyeongju hotel restaurant. The music was as memorable as the delicious Korean food.
Mexico
Most people associate mariachi music with sombrero-wearing musicians playing violins, guitars and trumpets at Mexican eateries. More than just restaurant singers and musicians, mariachis perform their broad repertoire of songs at weddings, family events, festivals and downtown plazas. In Mexico, we encountered a mariachi band leading a flower-filled pickup truck in a funeral procession.
In 2011, UNESCO added mariachi to its Intangible Cultural Heritage list.
Nashville
You can find most genres of live music in Nashville's honky-tonks, restaurants and theatres ̶ from country and blues to rock and jazz. We especially enjoyed the bluegrass bands, which play acoustic stringed instruments.
Whether you're listening to a big-name performer or a local artist, you'll find it hard to resist tapping your toes or jumping up to line dance.
Don't miss a show and tour at the Ryman Auditorium. It's known for the Grand Ole Opry and performances by legends such as Johnny Cash, Hank Williams and Patsy Cline.
Newfoundland
Newfoundland traditional music encompasses more than sea shanties, ballads and Celtic tunes. The French-influenced traditional music played on accordions enchanted us during our trip to the province's West Coast.
As we listened to the rhythmic reels emanating from the instruments ̶ sometimes called squeeze boxes ̶ we wanted to get up and dance.
We resolved to attend Port-au-Port's annual Black Duck Brook Festival on our next visit to hear more of the music that keeps the Francophone culture alive in the region.
New Orleans
Music is the beating heart of New Orleans, whether it's Cajun, Zydeco (Louisiana Creole), gospel singing, classical or marching brass bands. You can hear it in restaurants, cafés and music clubs and during festivals ranging from Mardi Gras to Jazz Fest.
The birthplace of Louis Armstrong is noted for its jazz. We especially enjoyed the jazz music played by street-corner buskers as well as the old-timers in Preservation Hall, where we clapped our hands to a rousing version of When the Saints Go Marching In.
Nunavut
We'll never forget the cold night on the Hudson Bay coast, when we huddled together inside a caribou-skin tent listening to Peter Mikeeuniak beat a large hand-drum. He explained that Inuit drumming accompanies songs that tell stories about things which they've done in their past that they want to remember.
His wife Mary Okatsiak sang her grandmother's Inuktitut song as Peter accompanied her on the drum. She translated her grandmother's memories about freezing-cold igloos and sewing caribou clothing.
Polynesia
Whether you hear them in Hawaii or Tahiti, ukuleles are symbolic of Polynesian music. An integral part of a Polynesian band, the four-stringed instrument is often accompanied by guitars and a one-string inverted washtub bass. We have enjoyed ukulele music in restaurants, clubs, luaus, resorts, cruise ships and during Hawaiian aloha welcome ceremonies.
Another traditional instrument is the wooden drum or pahu. Musicians play it with their palms and fingers. It's often adorned with carved tikis (Polynesian deities) and other symbolic decorations.
Prince Edward Island
Few gatherings are more fun than a traditional P.E.I. ceilidh (pronounced kay–lee), shindig or kitchen party. Whether it's an informal get-together in a home or a larger gathering at a community hall, the focal point is the fiddler, often accompanied by a spoon-player and a guitarist.
Their rousing renditions of Gaelic folk music celebrate the island's Irish and Scottish heritage and motivate guests to tap their feet, sing along and dance, space permitting.
Scotland
Although you can hear the wailing skirl of bagpipes around the world, especially in Commonwealth countries, the woodwind instruments are most frequently associated with Scotland.
We watched kilt-clad pipers march at The Royal Edinburgh Military Tattoo, as well as in parades and Remembrance Day ceremonies in Canada. Our most enduring memory of bagpipe music was during a Hebridean Princess cruise. As the sun set, the ship's bagpiper strolled along the decks, playing Amazing Grace. It gave us goosebumps.
Tunisia
During our tour of the Tunisian Sahara, a trio of Berber musicians entertained us, surrounded by sand dunes and illuminated by headlights from our jeeps.
One musician played a reed flute. Another blew through a rhaita (a double-reed wind instrument). The third musician accompanied them on a double-sided bass drum.
We clapped our hands in time to lively tunes traditionally played at Berber weddings. It was an evening to remember.
There you have it – a start to an inspiring playlist for your next vacation. Feel free to personalize it with your favourite musical genres.
Barb & Ron Kroll publish the trip-planning website www.KrollTravel.com
Story and photos © Barb & Ron Kroll