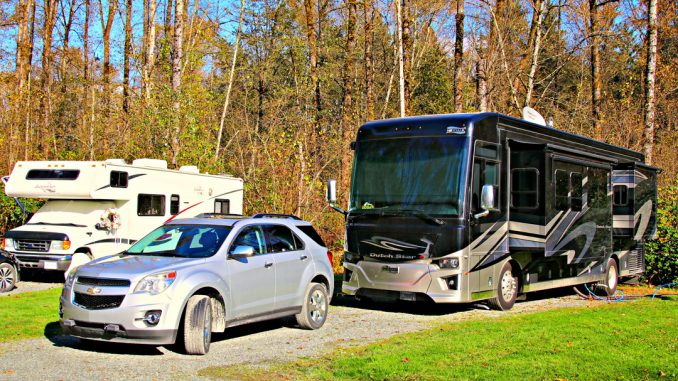 Pandemic changed migration patterns of Canadians who head south for the sun
Canadians who travel south changed their migration pattern dramatically this past winter. In a normal year, more than one million Canadians head south to the U.S. Sunbelt states. The COVID-19 pandemic clipped their wings and forced most to stay in Canada this winter.
Of those who travelled, most drove west to RV parks and campgrounds in British Columbia − the South Okanagan, Lower Mainland and Vancouver Island. There is no place in Canada from the East Coast all the way to this area that doesn't have winter. So, there's no escape until you come here. These three regions in British Columbia appear to be the perfect destinations for snowbirds who want to forget about the snow and the worst of the freezing cold.
British Columbia was the place to be in Canada this past winter. Whether snowbirds looked at minimum and maximum temperatures, or number of snow days, these three areas were the best option. Plus, with fewer than five days with snowfall, whichever B.C. region snowbirds chose, it allowed them to escape the worst of the weather conditions that they dread: snow, wind, ice and frigid winter temperatures.
Fortunately, Canadian snowbirds could still make the most of a bad situation. Although replicating the conditions of a Florida winter in Canada is not possible, spending the tougher months in a balmier climate within the country's borders is doable for many.
According to the Canadian Camping and RV Council, at least 50,000 full-time users of recreational vehicles who usually spend their winters in the U.S. Sunbelt had to find a site north of the border. Thousands of those snowbirds converged on southern B.C., packing full-service campgrounds to wait out the winter, according to tourism and lodging groups in the province.
About 100 private-sector campgrounds are open year-round, most of them in southern B.C. Full-time RVers have been wintering here for years. The difference this year is that snowbirds had nowhere else to go. By mid-July, numerous RV parks reported 100 people on their winter wait-list. They were from everywhere in the country that's cold.
On a small island in British Columbia's Fraser River is a campground packed with Canadian snowbirds who found refuge when the border with the United States was closed. Unlike other years, all 118 full-service sites at Fort Camping in Langley are occupied.
It started in March 2020, when Prime Minister Justin Trudeau told Canadians around the world to come home. Taking no chance on the border reopening, many booked Fort Camping for the winter. They sensed that they would be in deep trouble come winter with the border closed and nowhere to go. At Fort Camping, most have satellite/cable TV, internet, food services nearby and numerous walking paths and hiking trails. And this area is surrounded by water, mountains and parks.
Florida is the most popular winter destination for Canadians who routinely head south for the season with about half a million visiting the state in a normal year. Roughly 3.5 million Canadians − including non-snowbirds − visit the state each year and spend approximately $6.5 billion. The second most popular destination is Arizona. According to the Arizona Office of Tourism, around 964,000 Canadian visitors were responsible for $1 billion of the $26.5 billion in tourism spending last year. This past September, visitors spent $752 million overall, but that's down 60 per cent from the $1.9 billion expected in a normal year.
It was prime parka weather in northern Alberta in mid-January, a crisp -35 Celsius, which reminded me that I had planned to spend time in southern Arizona this winter. I could start my day with a hike at Catalina State Park, revel in the dry heat and hang out with all my cacti friends.
Worth Pondering…

The little reed, bending to the force of the wind, soon stood upright again when the storm had passed over. −Aesop
This is the first winter in 20+ years that we haven't driven our RV to the U.S. Sunbelt: California, Arizona, New Mexico, Texas, Louisiana, Mississippi, Alabama and Florida. But not this year! It's a lifestyle, as opposed to vacationing for two weeks. If you told me in January 2020 that I would spend the winter of 2020-21 in the Great White North, I'd surely have wondered which one of us was crazier.
I look at the positives…it could be a lot worse. We've got a nice warm home-on-wheels, we have pleasant neighbours here at Fort Camping, we're in a beautiful area of the country and spring comes early. As I write this in early March, spring is in the air! The robins have returned and the snowdrops and crocus are in bloom. Most shrubs and trees have begun the process of sprouting their crop of new growth. Soon, the trees will grow back their lush, green leaves. Only a few days ago, they appeared barren − now there is a new explosion of life.
And, as spring arrived, so did a lot more sunshine. Would I like to be down south? Oh, you bet!
Also, while these alternative destinations within Canada's borders might not be as sunny as their usual winter destinations, these regions in British Columbia were an ideal solution for snowbirds in a less-than-ideal year.
On a hopeful note, the one-year absence has not diminished Canadian snowbirds' enthusiasm for their winter homes. We'll be back next winter. I certainly hope so!
There is hope on the horizon. U.S. Rep. Suzan DelBene (D-Wash.) is leading a joint call in Congress for the Biden administration to reach new terms for a Canadian border reopening.
"Minimizing the risk presented by COVID-19 and prioritizing the safety of our communities remains of utmost importance while the U.S. and Canada work to overcome this public health crisis," seven members of Washington state's congressional delegation, led by DelBene, wrote.
"However, as we approach one year of restricted travel, individuals, families, businesses and communities on both sides of the border have been significantly impacted by these restrictions."
Together again someday
"We'll Meet Again" was a popular song − and saying − during the Second World War among Americans and Canadians alike. Then, both countries were united against one enemy, just like during this pandemic. So, expect friendly border crossings again. The border will open…
In the meantime, go outside, Spring is for feeling alive!
Worth Pondering…

As Anne Murray sings in the popular song, "Snowbird":

"Spread your tiny wings and fly away

And take the snow back with you

Where it came from on that day

So, little snowbird, take me with you when you go

To that land of gentle breezes where the peaceful waters flow…"