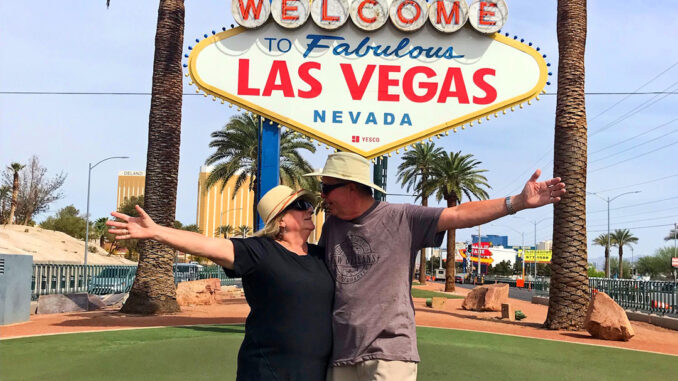 Don't we all have a favourite drive? Or perhaps a few places you would like to join together for a short or even a long road trip? For a few years, ours has been to tour the southern U.S. coast to Las Vegas and then back home to southern Ontario, Canada.
Mary Ellen and I attended a Canadian Snowbird Association Board of Directors meeting in mid-June and mentioned to Ross Quigley, CSANews magazine editor, that we took our road trip this spring on our way home from Florida. Ross said that I should tell CSANews readers. "Write an article about the trip!" he said. So here begins our article.
While we closed up our home in North Fort Myers and left Florida on March 21, the planning for the trip began months earlier.
Our route was designed to take us through cities including New Orleans, San Antonio, El Paso, Tucson and Flagstaff to the Grand Canyon, Sedona and Las Vegas. Friends would say to us, "too bad about the timing…gas is really expensive!" Mary Ellen would reply, "If we don't take this trip now, we may not have any personal "gas" to do so later!" So off we went.
Travelling on the I-75 north from North Fort Myers was familiar to us. When we turned west on I-10, we were in new territory. We had often talked about looking into Panama City and Beach, but never made it until this trip. We stayed overnight in Panama City, walking to the Gulf waterfront and remarking on the unexpected industrial port shipping facilities that we could see.
The next morning, we rode along the shoreline until we came to an amusement area on that part of Panama City Beach. Strong winds did not keep young folks from trying to play volleyball. The waves were high. You could see that the beaches were excellent and extremely well-used in Panama City Beach.
Continuing, we travelled northward back to I-10 and drove along the delta and shoreline of Alabama and Mississippi. There were many bridges over wetlands, and the shifting, sandy shores were unexpectedly close to the roadway.
It was a moderately long day on the road and I-10 took us right into Louisiana and downtown New Orleans. Our first stop was to our prearranged dog sitter for our 13-year-old Cairn Terrier (the Wizard of Oz dog) Toto. Using Rover.com, we were able to find a well-referenced dog sitter near our hotel, leaving us free to enjoy our three worry-free nights in NOLA.
We used an app from a company called VIATOR to prearrange a familiarization tour of New Orleans parishes and sites the next morning. A guided tour is a good way to learn the history of an area and identify sites at which you may want to spend more time. Watching YouTube videos over the weeks before we left Florida had educated us regarding what others found important to experience, and made it easier to recognize the sites as we drove through New Orleans.
Our tour went through the beautiful large-home Garden District, and we stopped for a walkabout in one of the above-ground cemetery sites. These sites were often family plots and when too many were in the above-ground crypt, they would collect and bag the bones of the longer dead, to make room for a recent family member, placing the bones in a hole in the floor! Continuing, we toured through the French Quarter and in the large City Park, we had New Orleans exclusive beignets (a white powder-coated doughnut) at Café du Monde food service.
A favourite tour stop of mine was the location of the first break in the levee during hurricane Katrina. We could see that the water on one side of the repaired levee was in line with the much lower roof eaves of houses on the land side. No wonder things were destroyed by floodwaters. Engineers felt that they had it right, but nature was underestimated. Fascinating storyboard information and an actual home devastation was set up like a museum to the loss, for us to experience.
On return, the tour bus dropped us off and we independently chose to spend more time in Jackson Square, attend mass at the beautiful St. Louis cathedral, visit the French Quarter market, have a beer and shop on Bourbon Street, lunch on muffuletta, gumbo and jambalaya at the highly recommended Napoleon House Restaurant and end the first day at Louis Armstrong commemorative community park.
We managed to walk 21,000 steps around town on day two. Close to our hotel, we started with a tour of the Superdome, now named Caesars Superdome. They were setting up getting ready for the Final Four basketball tournament. From the promenade of the waterfront outlets, we got a great look at riverboat traffic on the mighty Mississippi River. A few blocks to the east, we spent two hours at the Mardi Gras museum. Here we learned about the Mardi Gras parade season and saw many floats in construction and in warehouse inventory for potential future redesign and reuse. An outdoor café (and there are many to choose from) for lunch and dinner made for a beautiful end to our time here.
The next day we collected Toto and made our way along I-10 once more. It was a long drive, arriving in San Antonio late in the day. We selected our hotel to be within walking distance of the key downtown sites that interested us. We had two nights here but only one full day of touring, so location was important. No trip to San Antonio is complete without a tour of the Alamo church and museum collections. Such a fascinating story of how Texas was shaped for the future. Guides will even take your photo in front of the Alamo!
A mere two blocks away from the Alamo is one of the greatest downtown walks in the U.S. The San Antonio Riverwalk winds below street level, affording a lovely walk and many dining and shopping opportunities. You can spend hours there walking or learn more about local history on a guided riverboat ride. We got a little turned around (lost), so I recommend a guide map or GPS to get you on the right path once again.
Up bright and early the next day, we began the long drive to El Paso. A stop overnight here was necessary to break up our route and the long drive to Arizona. Along I-10 in this part of west Texas, from San Antonio to El Paso, we encountered rolling hills and unique geography. Surprising to us, the interstate had a speed of 80 miles per hour here as the road visibility was so very clear. Before leaving El Paso the next morning, we travelled to the busy Mexico-U.S. border to get a glimpse of the border wall, often in our news. The wall was a little underwhelming.
There was much which we wished to see in Arizona. Before retiring, we spent seven years vacationing in Arizona. Some of our planned stops were nostalgic. Such as the first one in Bisbee. Driving southwest off I-10, we travelled past many mountains and valleys before arriving in the historic copper mining town of Bisbee. The old main street was busy and many shops were open.
As the afternoon waned, we drove northwest towards I-10 and Tucson.
Along the way, we drove through Tombstone and recalled a previous visit to the OK Corral and re-enactment presentation. Very lifelike.
Tucson was our main base during working-days vacations. Among other sites and things to do, we always enjoyed our exciting drive through Gates Pass. From the lookout atop Gates Pass, there are beautiful desert and saguaro forest views. Going down the west side of the pass and Tucson Mountains, Kinney Road directed us back to the I-10 area.
Fellow snowbird director John Foster and his wife Joan invited us for lunch at their home in the Las Palmas community of Mesa. It was a special time reconnecting following so many COVID months apart. John gave us good directions to get out of Mesa and on our way north once again.
Our final destination for three nights was Flagstaff. This northern Arizona city is the perfect spot to enjoy many outdoor sports, all year round. Our hotel was on the infamous Route 66! We found our Toto dog another wonderful dog sitter on Rover.com. He was well cared for while we toured north and south of Flagstaff.
The next day, we went north from Flagstaff to the Grand Canyon. I had watched several YouTube videos for tips on how best to approach the drive to the canyon and which lookouts to be sure and see. These were very helpful and no doubt saved us time. One tip that we followed was to arrive from the east through meadows and the San Francisco peak mountainsides, avoiding the entry crowds at the main state park west entrance and visitor centre. The views from Desert View Lookout were spectacular. Yet, I somehow was surprised. I thought we would "feel" closer to the canyon floor and the river. No! It is a very long way down, winding and creating the canyon over 4,000 years. We spent the afternoon driving west along the Desert View Drive, stopping at viewpoints Lipan, Moran and Grandview, before arriving at Mather Point near the visitor centre and Grand Canyon village.
From the GC village, we went south on Highway 64 to a cut-off at Road 180. A spur of the moment decision, Road 180 angled cross-country on our way back to Flagstaff. We had a spectacular view of the San Francisco mountains, particularly twin snow-covered peak mountains Humphreys and Agassiz, elevation approximately 3800m (12,400 ft.) each. Further down this scenic road was the entrance to the Arizona Snowbowl professional alpine ski site. This was a very full day; however, we do not feel that we needed more time at the canyon than this one full day.
The following day, our southern drive from Flagstaff to Sedona was one of the most exhilarating drives I have enjoyed. Take Highway 89A south and you will travel up and down mountain slopes with several intense switchbacks around obstacles and river beds. Place two hands on the steering wheel, foot near the brake pedal and enjoy the excitement of the ride down the mountain. It was like your personal Monte Carlo ride.
Sedona is located in a beautiful red rock setting. The city is a busy tourist community known for its shops, mystical tours into the area countryside and accommodations.
Leaving the next morning, we drove along I-40 west towards Las Vegas and the Hoover Dam cut-off, Highway 93. We spent about an hour at Lake Mead and Hoover Dam. If you are careful, you can find the pull-off to a public parking area of the O'Callaghan-Tillman Bridge on the westbound side of Road 93 (I-11 in Nevada). We missed the turn and had to double back. There is a public walkway up the mountainside that leads to a walkway above the Colorado River. Bring your camera if you do visit the dam. Such an amazing work of engineering only 1,000 feet away. Apparently, there is enough concrete in the construction to pave a 16-foot-wide road from New York to San Francisco. There are very good storyboards to aid in understanding how difficult the dam was to construct in the 1930s.
Crossing into Nevada, not much further down I-11 is Las Vegas. We arrived in town just before rush hour, on a Friday afternoon. Our hotel was selected to be within walking distance of the "strip." Parking in the area of the strip is very expensive, if you can locate any at all.
Next day, our little Toto again went to a dog sitter and we began our two full days of touring Las Vegas. We walked to the strip and went up one side and down the other, from Caesars Palace down to MGM Grand and New York New York. There are replicas of the Eiffel Tower and the Statue of Liberty that amaze you. The sidewalks are wide and rarely do you have to walk across side streets. Often, walkways and elevators are in place to get you from one side of a street to the other above the roadway.
A favourite spot to stop along the strip is the pond in front of the Bellagio. Here, we watched a wonderful water display, as well-placed fountain chutes shot water into the air in rhythm with Cher's song "Believe." It was a captivating display of sound and water syncopation.
We did not spend much time in the casinos. However, we had instructions to place a bet for an Ontario friend from our Florida community…$100 on the Blue Jays to win the World Series!
Caesars Palace sports betting gave us two free beer tickets for placing the bet! Our friend says that this may be all that we "win."
For the evening, we purchased tickets to the Caesars Palace Coliseum to see country music star Keith Urban. This was an excellent show. Lights and sound in this theatre − where there is no bad seat − was so, so good.That Saturday night there was much entertainment competition with several big-name acts in town. As one expects in Vegas, there is lots to do and see.
You must get your photo taken at the Welcome to Las Vegas sign. There was a moderate lineup to do so when we drove to the site. Tourists like its "easy in-easy out" location in the roadway centre median. A volunteer was on site to help you pose and snap the digital photos on your device. I think that we came away with 25 pictures as a result! Got to love digital!
It was most disappointing to learn the weather forecast for the following two days… snow and blizzard conditions in the Rockies. Oh no! We had to change our planned route and retrace our steps south of the Rockies through Flagstaff, spending the night in Albuquerque, New Mexico. We continued the next day through a small portion of Texas and Oklahoma, arriving in Liberal, Kansas for the night. This was an unplanned stop, but provided a couple of great memories.
We had dinner in Liberal, Kansas right next door to our hotel. The Cattleman's Café II was a very busy place. We both had a meat loaf dinner with iced tea and pie and all it cost was $25.00, tax and tip! After many expensive days on the road, this was exceptional. While in the restaurant, we read about how the town was named. Apparently, history recalls an early landowner who kindly offered water to any traveller who passed through. The traveller often remarked, that's mighty "liberal" of you! And so the name stuck!
At the hotel, we learned of a local citizen's effort to benefit from the Wizard of Oz fame of Kansas. He opened "Dorothy's House and the Land of Oz" museum and it was only two blocks from our hotel. The next morning, we visited and I posed with our dog Toto − often referred to as the Wizard of Oz dog − next to an outdoor statue of Dorothy and her Toto. Priceless!
Really strong winds, like one would imagine sent Dorothy on her flight to Oz, gave our arms a good workout the next day, holding the steering wheel tight, driving through rural Kansas. It seemed that our GPS felt "across country" was the best way to get us north to Iowa. There were cattle stockyards at many intersections. Some of the stockyards boasted that they were fattening up the beef to send to market. It was quite an unexpected site to see the flat, wide-open countryside and then large stockyards. Many fields were burned black to promote new, healthy grass growth.
The last few days of our trip were spent driving northward through Iowa and Missouri to spend a day with family in Maple Grove, Minnesota and in Chicago, Illinois. Our border crossing to Canada would be the Blue Water Bridge at Port Huron, Michigan.
Arriving home in Camlachie, Ontario on April 9, we had spent 20 days on the road. Our road trip 2022 had travelled 5,825 miles (9,320 km) through 15 states. As a significant part of celebrating our 50th wedding anniversary year, this trip was a wonderful success… full of memories.
I would encourage you to take your road trip! Plan your route and travel stops based on your daily drive limit. Look at YouTube videos to see what is best to do at your major stops. Consult tour guide websites to learn about local touring opportunities. Book hotel and pet accommodations to maximize both your exercise after a long day's drive and the convenience of local attractions. If you plan ahead, you will have a wonderful experience and come in under budget like we did.
Finally, don't be concerned with a disappointing route change, as you might get a once-in-a-lifetime chance to get your photo taken with "Dorothy and her Toto!"
by Mary Ellen and Garry McDonald, 2nd V-P CSA Board of Directors