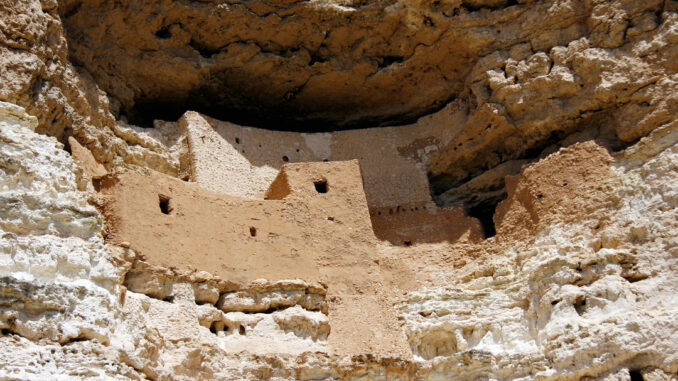 Why Montezuma Castle National Monument's name gets it all wrong
Built inside a cliffside alcove 27 metres above an Arizona valley floor, an ancient American castle remained a mystery to settlers in the area for decades until historians discovered that the unique structure had a much older, richer history than originally thought.
When settlers and Mexican-American War veterans came to Verde Valley in the 1840s, they mistakenly assumed that the pre-Columbian fortress – nestled in the limestone embankment of Beaver Creek Canyon along what is now I-17 between Phoenix and Flagstaff – was built by the Aztecs. They named it Montezuma Castle after the 16th-century Aztec Emperor Montezuma II.
The book Conquest of Mexico, published by Walter Hickling Prescott in 1843, substantiated this claim.
A number of articles written as late as the 20th century also attributed Montezuma Castle to the Aztecs. But, while the Verde Valley dwelling has retained its Aztec name, its baffling history is now better understood.
The cliff dwelling is not a castle and never had any connection to the 16th-century Aztec Emperor. Montezuma Castle was built by a Native American culture known as the Southern Sinagua. These people resided in the Verde Valley for 800 years or longer and developed an advanced culture built on farming and trade.
While the origins of the Sinagua are unclear, they are thought to have settled in Verde Valley around AD 600 to propagate crops for food using water from Beaver Creek, build homes and develop trade routes.
Montezuma Castle represented a Sinagua dwelling from the early 12th century, since earlier homes were pit houses built partially underground. The five-storey, 20-room cliffside structure was originally much larger than what remains today and once included a larger section comprised of as many as 45 rooms built against the face of the cliff. The lowest storey lay on the canyon floor, attached to the cliff with beams inserted into sockets dug out from the limestone. A row of sockets can still be seen today.
It appears to have been destroyed by fire sometime before the area was abandoned by the Southern Sinagua. Since no signs of warfare have been detected, the fire was presumably either accidental or the result of some natural cause such as lightning.
One mystery that remains is exactly why the Sinagua abandoned their settlement of eight centuries in the early 15th century, leaving the then-300-year-old Montezuma Castle to the mercy of time.
One speculation is that flooding of the neighbouring Hohokam people's farmland may have prompted the Hohokam to invade Verde Valley and push the Sinagua out. Others believe that the decline of the Sinagua settlement occurred gradually, as they merged with Hopi clans further north and Yavapai moved in. Originally a hunter-gatherer group, the Yavapai still live in Verde Valley today.
Montezuma Castle stood completely abandoned by 1425. It was rediscovered in 1583 by a small Spanish expedition from Mexico which, led by Antonio de Espejo and assisted by Hopi guides, was searching for precious metals.
The next to settle Verde Valley were U.S. troops in the 1840s. With new life in the valley, Montezuma Castle was elevated from an abandoned dwelling to a site of national and historic interest.
The site was protected by President Theodore Roosevelt's Antiquities Act of 1906, becoming the first historic ruin to be named a National Monument, and has since attracted thousands of visitors every year.
Site managers led guided tours up the cliffside on ladders to see the interior of the castle until 1951, when increasing numbers forced officials to consider preservation of the limestone. Now, only researchers are permitted access into the castle although there is a replica model, complete with furniture and inhabitants, on the path leading up to the site for tourists.
Today, Montezuma Castle National Monument has two units, Montezuma Castle and Montezuma Well. These historic sites are relatively close together, separated by 17 km.
Many people visit Montezuma Castle as a day trip from Sedona, since it's only 40 km south and just a few minutes off the I-17 – making it easily accessible.
From I-17, take Exit 289, drive east on Middle Verde Road (through two traffic circles) for about 0.8 km to the blinking red light. Take the next left to Montezuma Castle Road and follow it for about 3.2 km. This road will terminate in the parking lot for the national monument.
Once you arrive at the Montezuma Castle parking area, take a short two-minute walk along an easy 0.5-km paved ADA-accessible road. The paved nature trail leads past the ruins and then loops back along Beaver Creek. As you first walk along the path, you are surrounded by white-barked Arizona sycamore trees. Several exhibits explaining more than 900 years of ancient Sinagua culture are also on display.
A short distance from the visitor centre, Montezuma Castle slowly reveals itself. It's impressive when you lay eyes on it for the first time. Keep an eye out for lizards, songbirds and rock squirrels. These animals are often found along the trail. Or take a moment to find some shade in the large sycamore trees and have a picnic, as you take in the cliff dwelling.
Montezuma Well is a sub-unit of Montezuma Castle. Managed by the Park Service, it is located about 15-20 minutes to the north. From Montezuma Castle National Monument, head toward I-17 and go north 2.4 km to the next exit (Exit 293). Total trip between Montezuma Castle and Montezuma Well is 17 km.
For a first-time visitor, it may be hard to know what one should expect from a place called Montezuma Well. Few anticipate what will meet their eyes at the top of the first hill, just 73 metres past the ranger station. The Well is a place like no other. It shows us the power of water to affect land, life and people. It is an oasis in a harsh desert, home to species found nowhere else.
It is a peaceful pond, yet it is also the setting of a struggle between life and death. And it is the ancestral home and a place of great power for Native Americans whose forebearers lived here. How could water be the most important player in a story about the desert? In an entire year, Montezuma Well receives less than 33 cm of rainfall – barely ⅓ of the national average for the United States. Yet the Well contains more than 65 million litres of water! Where does it come from? How did it get there? Until 2011, the answers to these questions were a mystery. Though water may be easily turned aside, it is patient, persistent and unrelenting.
More than 10,000 years ago, the Well's water fell as rain and snow atop the Mogollon Rim, visible to the north. Over millennia, it has percolated slowly through hundreds of yards of rock, draining drop by drop through the path of least resistance. But here, the water encounters an obstacle much harder than the others through which it has flowed. Beneath the Well, a vertical wall of volcanic basalt acts like a dam forcing water back toward the surface. In its long trip toward daylight, it eroded an underground cavern until its roof collapsed and created the sinkhole which you see today.
The water still flows. Every day, the Well is replenished with 5.6 million litres of new water. Like a bowl with a crack in its side, the water overflows through a long, narrow cave in the southeast rim to reappear on the other side at the outlet. Side trails lead from the main loop down to cool, shaded benches at each end of this subterranean waterway.
A natural limestone sinkhole, the Well measures 117 metres in diameter when measured from rim to rim. The water of Montezuma Well is only about 16 metres deep, with an average temperature of around 21 degrees C.
As this water runoff travels through all those layers of rock, its significant chemical signature creates a unique ecosystem within the Well.
While the Well seems to be a peaceful pond, there are many dangers lurking beneath the surface. You would not want to swim in the Well due to high levels of arsenic and the numerous leeches.
The phenomenon of Montezuma Well provides a unique landscape. It is home to a variety of wildlife, including 100 species of birds, snakes, mammals, lizards and insects.
Five species that are found nowhere else in the world call Montezuma Well home: diatoms (algae), amphipods (tiny crustaceans), leeches, water scorpions and even snails that have adapted to water with a carbon dioxide content 10 times higher than that of most other spring water.
The rim trail at Montezuma Well is a 0.5 km, well-marked paved trail. After walking up a small hill for about 77 metres, you will be rewarded with a great view overlooking the entire Well and a prehistoric cliff dwelling to your left. When you are standing at the rim, it is easy to see why so many cultures flocked to this oasis in the desert and called it home for so many years.
Along the trail, there are numerous signs relating the history and the ways in which plants were used in each culture. Rangers often walk the trails answering any question that you may have.
You can then choose to either take the loop trail to your vehicle or continue along the other short trails past other ruins and the irrigation channels.
When visiting Montezuma Castle National Monument, remember that you are in a desert environment. Since the humidity is low, you can get dehydrated even when it's not too hot and not even realize it. Make sure that you carry water and drink often. Even though the trails are short, you can get sunburned during the summer or on sunny days, so wear a wide-brimmed hat and apply sunscreen.
Be aware of the cacti around you while hiking. Some species such as the cholla varieties have barbed spines that detach at the lightest touch and embed in your skin, making them painful to get out. Others have spines so tiny that you won't even see them, but your skin can end up filled with them. Do not touch them, no matter how tempting it may be.
Rattlesnakes are common in and around Montezuma Castle, though you are not likely to see them. They are beneficial because they keep the rodent population in check, but they hide from humans. If you see one, don't panic, but don't stop to take photos either. Walk slowly and quietly behind it, as far from it as possible. To avoid an unwelcome encounter, stay on the trails.
Worth Pondering…
To my mind, these live oak-dotted hills fat with side oats grama, these pine-clad mesas spangled with flowers, these lazy trout streams burbling along under great sycamores and cottonwoods, come near to being the cream of creation.
—Aldo Leopold, 1937
By Rex Vogel