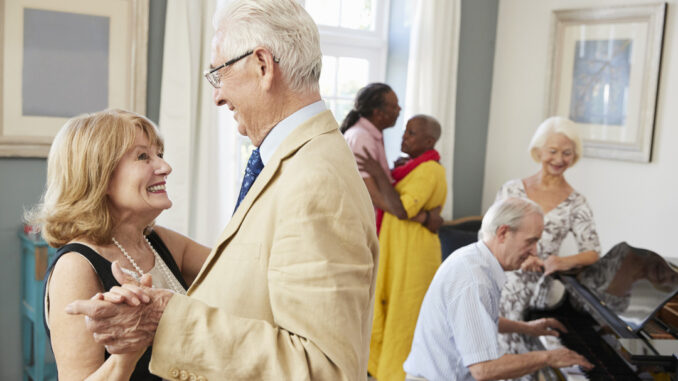 Now that life has returned to normal (for the most part), we can start seeking out the companionship of friends and family when enjoying different activities. Whether you love to stay moving and active, or keep your mind sharp, there are lots of things that you can do with a partner by your side.
Exercising and staying active are always more fun when you're with someone. Not only does this give you company while doing an activity, it's also a great way of staying accountable – after all, you don't want to abandon your workout partner! For those of us who thrive off of a little competition, exercising with a family member, friend or spouse can encourage you to set goals and keep working at challenging yourself as well.
Social clubs can also be a great way to pursue passion projects. These activity-based meetups can keep your mind stable and focused, all the while allowing you to socialize.
If you're an active duo and you're looking for something fun to do that requires a party of at least two, here are some great partnered-up activities that will get your heart and mind going, along with your socializing game.
Dancing: What's your favourite genre? Traditional ballroom − where the movements are slow and graceful − or something a bit more upbeat such as salsa, swing or square dancing? Any way you cut it (on the dance floor, that is), partnered dancing allows you to get in some great cardio, plus it helps you work on co-ordination and balance.
Cycling: Okay, so maybe you can't find a bicycle built for two (although that would be fun!), but you can still pair up with a fellow riding enthusiast and hit the pavement ensemble. Find a great cycling trail to explore together – you can either get to know a few familiar ones or challenge yourselves to find new paths on the regular.
Racquet sports: Pickleball, tennis, racquetball, squash – these all require lots of cardio, co-ordination and strength training, plus you need at least one other person to play. Pickleball specifically has been gaining immense popularity – look for local leagues in your city or borough.
Book clubs: Reading is such an enjoyable hobby. It's a great way to pass the time and it can be all the more fulfilling when you have someone to share and discuss the book with. Not only that, reading can improve things such as memory, cognition and attention span. In fact, by strengthening your memory retention, you can help stave off conditions such as Alzheimer's disease and dementia. Plus, you'll love sharing a cup of tea and gabbing about your latest book with your reading partner.
Art classes: Whether you fancy yourself an artist or not, there's a slew of great art classes that are available both in person and virtually, so find a friend, a paintbrush or pencil and get started! One of the good things to come out of the pandemic is that there are now so many more classes available virtually. And, because it's the worldwide web, you can access art classes from anywhere in the world. Team up with a fellow creative and get started on oil painting classes, sketching, molding, knitting and more. Not only is this a great way to bond with a bestie, it's also beneficial for your cognitive functionality.
Gardening clubs: Green thumbs unite! Community gardeners often form small groups or clubs and garden with others. You and a friend could take turns helping one another with your at-home gardens and, at the same time, exchange the fruits of your labour. Or, you can get involved with a community gardening project together. You'll love spending time together enjoying the fruits, veggies and flowers which you produce, and you'll be getting in some good exercise too.
by Jennifer Cox