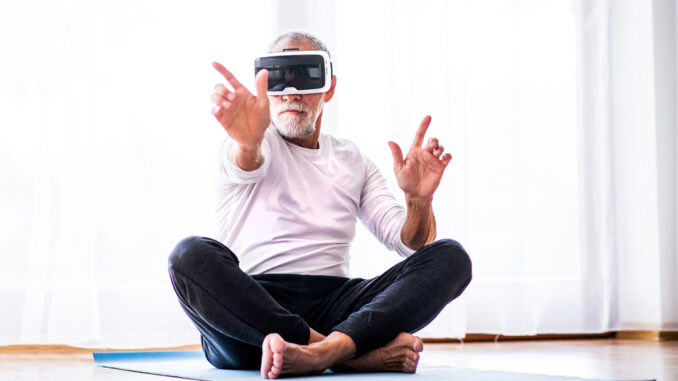 We all need a little kick in the pants to get moving and stay active, and technology is helping to make this more hands-on and engaging. We've all heard the term "VR" (Virtual Reality) much more in a gaming context; however, developers have started integrating exercise and physical fitness into their programs. Now, you can completely engage in your workout by taking advantage of the cool effects that are offered with virtual reality.
First things first: safety. When you're wearing a VR headset, your actual surroundings become more distant, which can affect your sense of balance. Make sure that, if you're working out with a virtual reality system, you have ample room around you (so that you won't knock into anything) and ensure that your balance is sufficiently fine-tuned for this sort of immersive experience. If necessary, start with programs in which you can work out while seated.
Some VR workouts come in the form of games in which you're required to move around to achieve certain goals. Not only do these keep you moving, they also allow you to work on such things as balance, hand-eye co-ordination, flexibility and more. And, because many of these programs allow multiple people to participate at once, you can communicate, compete and socialize with others.
Research suggests that VR exergaming – or "gamercising" – may help to slow cognitive decline, which could have a major impact on the health and quality of life for seniors (CNET). The National Institute on Aging reports that mild cognitive decline often leads to Alzheimer's disease or other dementias, and evolving research is helping us better understand how to treat and prevent age-related cognitive impairment. Virtual reality therapies are known for their physical and mental health benefits and, as it turns out, remarkable things can happen when the body and mind work together.
There are many different systems that work well when it comes to fitness and seniors. The Oculus system has several VR fitness games that encourage the strengthening of muscles, help you to burn calories and provide a well-rounded cardiovascular workout.
Another cool product designed specifically with seniors in mind is RendeverFit, which first became available for preorders in September of last year. It is the first VR application to integrate both physical and cognitive fitness for seniors, while also boosting socialization. There are three different activities to choose from: Cycling (where participants have the chance to cycle through beautiful landscapes with their friends as they reach out, pop coloured balloons and compete for high scores); Paddle (where participants work on their hand-eye co-ordination as they develop their swing through target practice on a remote island); and, finally, Paint (where participants are invited to a creative immersive environment where they can move around their virtual canvas while painting in 3D).
For seniors who have passions for certain hobbies, there could be a virtual reality option for that as well. Real VR Fishing on the Oculus Quest 2 is very realistic and is one of the more popular games available. Explore your beautiful cabin, visit different fishing locations and, as you catch fish, it brings you closer to unlocking more equipment and locations. There is also bowling, mini putt, golf and so many more.
If meditation and slower-movement exercise is more your thing, then you can find a wide range of guided VR workouts. VR Tai Chi is a great activity that uses slow, gentle movements to help promote flexibility and balance, and reduce stress. You'll find yourself doing tai chi in some of the most beautiful places in the world.
It's time to get moving and, thanks to virtual reality, you can visit every corner of the globe and take part in any and every sport, activity, hobby or workout that you'd like. VR is not only entertaining, it's engaging too. And, when paired with exercise, it becomes a win-win-win.
By Jennifer Cox