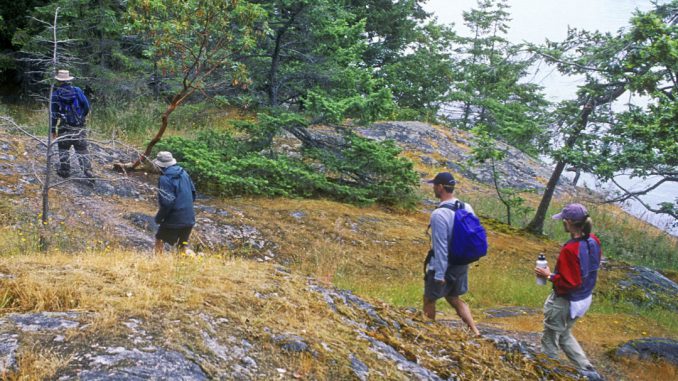 No matter where you live in Canada, you'll find walking trails where you can enjoy fresh air and exercise
Public Health experts advise Canadians that outdoor exercise is a great way to maintain good health during the pandemic. From coast-to-coast-to-coast, you can hike in parks, conservation areas, forests, reserves and along coastlines.
With the multitude of hiking trails in Canada, it's easy to select the ones that match your abilities and available time. So, lace up your running shoes or hiking boots, grab your walking poles and enjoy the freedom of meandering at your own pace.
We prefer less-crowded walking paths where we can stretch our legs while maintaining a social distance between hikers. Here are a few of our favourite, easy-to-moderate Canadian walking routes where you can avoid the crowds, enjoy nature and stay fit − all in a half-day or less.
Ruckle Provincial Park, Salt Spring Island, B.C.
Parts of Ruckle Park resemble a primordial wilderness. Western red cedars towered above us. Green moss-like epiphytes draped branches and fallen logs. At our feet, lacy sword and bracken ferns carpeted the ground with rainforest hues.
As we hiked through the coastal Douglas fir ecosystem, we were surprised to discover maple leaves as large as dinner plates. Bigleaf maples are the largest maple trees in North America. They grow only on the West Coast. In the fall, they turn yellow and brown, but not red.
Other trails follow the shoreline and encircle fields in one of the oldest farmsteads in British Columbia. Henry Ruckle's original 1877 farmhouse still stands here, as well as the apple orchard, barn and potato house, which is now the park's headquarters.
Next to a display of old photographs and signs describing the original farmstead, we discovered an honesty stand. Flower bouquets, fresh fruit and jars of homemade preserves, each with a price sign, covered the roofed wooden table. Shoppers make their selections and drop the money through the wooden honesty box slot.
The charming custom dates to the days when farmers trusted visitors to pay for surplus garden produce left by the roadside. It says a lot about life on Salt Spring Island.
Tsawout First Nation Reserve, Salt Spring Island, B.C.
Coastal Salish people originally inhabited this land. When white settlers arrived in the Gulf Islands in the mid-1800s, the displaced First Nations people moved to this Salt Spring Island location.
A sign posted on a cedar tree reads: "To our friends: This land has been used by the Tsawout people from time beyond remembering. It is the only piece of Gulf Islands property left to us. Its name in our language is Wen, na', nec.
"You are welcome to walk upon it. Please enjoy its beauty and tranquility, but please respect our wishes about its use. These are: no fires, no camping, no garbage, no shellfish harvesting and no digging for artifacts. Thank you."
As we traversed the old-growth forest, we stopped to examine an arbutus tree, which constantly sheds its red bark.
The scent of salty air replaced the woodsy fragrance as we reached the Fulford Harbour shoreline. Listening to the lapping waves, the calls of black oystercatchers and the haunting echo of a BC Ferry, we viewed the flat beach and pondered the Coast Salish people who drew up their boats here more than 100 years ago.
Living Waters Boardwalk, Elk Island National Park, Alberta
Elk Island National Park, 35 minutes east of Edmonton, enticed us with several interesting trails through landscapes ranging from aspen forests to meadows. We especially enjoyed the short Living Waters Boardwalk loop over Astotin Lake.
Interpretive signs described the lake's waterfowl and aquatic life. We gazed in fascination at a whole menagerie of buzzing, floating and darting water bugs, from blue damsel flies to side-swimmers.
The water boatmen, which propel themselves with minuscule oar-like legs, captured our attention. With hyperactive regularity, they paddled to the surface for air, which they trapped in bubbles beneath their wings before diving again into the murky depths.
Equally captivating were the laid-back snails, which grazed on algae growing on rocks and then leisurely floated along, buoyed up by air in their shells.
On our next visit, we'll bring dip nets to hunt for water tigers. These aquatic insects have massive jaws which capture fish and other underwater prey much larger than themselves.
Helenbar Lookout Trail, Mississagi Provincial Park, Ontario
We made several surprising discoveries on the Helenbar Lookout Trail, 15 minutes north of Elliot Lake.
The first was a glacial erratic − a huge boulder dropped by the kilometre-thick melting ice sheet that covered this region 10,000 years ago.
A short walk through a forest of sugar maples, white and yellow birch, trembling aspen, white spruce, hemlock and balsam fir trees led us to a second surprise − ripple rock. After ancient waves rippled lake-bed sand two billion years ago, water pressure cemented the formations and fossils into sandstone rock.
Pudding stone, another unusual rock, later grabbed our attention. The conglomerate was comprised of white pebbles, embedded in a dark-coloured, fine-grained matrix.
The final highlight of the trail was a lookout, 130 metres above Helenbar Lake. It rewarded us for the climb to the summit with a panoramic view of the lake, forest and mountainous landscape.
Brackley Beach & Greenwich Dunes Trails, Prince Edward Island National Park
The diversity of trails in P.E.I.'s national park amazed us. Our walk along the Brackley Beach shoreline brought us to picnic areas and the photogenic red-and-white Covehead Lighthouse, surrounded by sand dunes and marram grass.
In contrast, the Greenwich Dunes Trail featured a meandering floating boardwalk over a shallow freshwater pond. Interpretive panels described the area's farming history and vegetation, ranging from cattails to cardinal-red bunchberries.
Other signs explained how wind and waves shaped a giant sand dune and mobile crescent-shaped parabolic dunes. We couldn't resist taking photos of the unique formations.
Tablelands & Lookout Trails, Gros Morne National Park, Newfoundland
Walking on yellow oxidizing earth mantle rocks from deep inside the earth − 10 kilometres below the ocean floor − was the highlight of Gros Morne's Tablelands Trail. Glaciers exposed this 500-million-year-old rock when they carved out the Bonne Bay fjord.
We enjoyed bird's-eye views of this Gulf of St. Lawrence inlet from the peak of the nearby Lookout Trail. Instead of rocks, pretty purple rhodora blossoms and pink-and-maroon lady's slipper orchids lined our path to the boardwalk at the top. A mind-boggling 56 species of orchids grow in the park.
Sylvia Grinnell & Qaummaarviit Territorial Park Hikes, Nunavut
Fluffy white Arctic cotton and yellow mountain avens flowers highlighted our summer walk in Sylvia Grinnell Territorial Park, even though it was cool enough to wear coats. The vast tundra meadow allowed plenty of space for social distancing. We didn't see any of the caribou that inhabit the park, but we did discover the remnants of a skeleton.
Qaummaarviit (pronounced cow-mar-veet) is also located near Nunavut's capital, Iqaluit. The historic park preserves the site occupied by Thule ancestors of the Inuit, who lived here periodically from AD 1000 to 1800.
Interpretive plaques along the one-kilometre self-guided boardwalk trail described our discoveries, including kayak racks and the remnants of 11 semi-subterranean winter houses, built with rocks and whalebone rafters.
Cawing raven cries drew our attention to a bluff, where the black birds were devouring a caribou carcass. A rough-legged hawk soared overhead. The birdwatching was as fascinating as the archaeological artifacts.
The Great Trail
What is the longest network of recreational trails in the world? The Great Trail (called the Trans Canada Trail until September 2016) extends for more than 24,000 kilometres from coast-to-coast-to-coast. The system of paths, roadways, greenways and waterways links more than 15,000 rural, urban and indigenous communities.
You can use the interactive map on the https://thegreattrail.ca/ website to find portions of the trail in your province or territory.
How to find nearby walking trails
Don't exclude municipal parks when searching for interesting places to walk. We've spent countless enjoyable hours walking on a trail that's minutes from our home. The 65-acre German Mills Settlers Park commemorates the original German inhabitants who settled the area. It's one section of the partially completed 121-kilometre Lake Simcoe to Lake Ontario walking and cycling trail.
We love walking along the babbling German Mills Creek, listening to singing birds and admiring seasonal wildflowers. A highlight of our morning walks is spotting wildlife, ranging from deer and foxes to wild turkeys.
We hope that these trails remind you of some of your favourite walks.
Where can you find hiking trails and walking paths near your home? Check the Parks & Recreation Department of your local municipality. Or, simply type the name of your city, town, region or province + walking or hiking trails into Google or your favourite search engine.
You'll be surprised at the number of enticing Canadian trails that you'll add to your bucket list.
Barb & Ron Kroll publish the trip-planning website www.KrollTravel.com
Story and photos © Barb & Ron Kroll