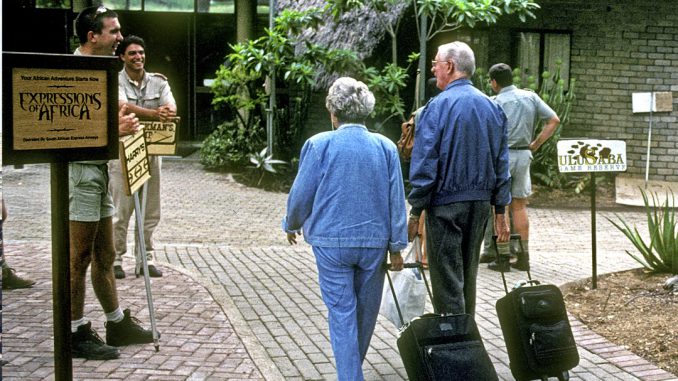 Free online tools provide regularly updated data to help you make informed decisions about where and when to travel
Where are you planning to go when you're ready to travel again? Europe? The Southern United States? A Caribbean island? Australia? It's difficult to decide on a travel destination when the COVID-19 pandemic situation changes daily.
A new, free tool from the World Tourism Organization (UNWTO) – an agency of the United Nations – provides information to assist travellers wanting to assess and compare tourism data for countries around the world.
How many tourists are going there?
For international tourist arrivals, for example, you can search places as remote as Africa, or those as familiar as Europe.
The website separates data for each region by month and by sub-region. For instance, the European information has Central/Eastern, Northern, Mediterranean and Southern Europe sections.
Just click on a sub-region and you can see, by month, the increase or decrease in visitor arrivals. Graphs, charts and colour-coding make it easier to visualize. (Bright red shows a decrease, whereas white depicts an increase in arrivals.)
Overview, flights and accommodations
If you don't have a destination in mind, the overview page is the most helpful. A quick glance will show you the status of tourism, air transport, accommodations and COVID-19 cases.
A green upward arrow indicates an improvement over the previous month. A yellow dot indicates no change and a red downward arrow denotes a deteriorating situation.
Graphs depict changes over the current year, along with the percentage change year-to-date.
The UNWTO Tourism Recovery Tracker provides information about air reservations, as well as international and domestic seat capacity by month for each region and sub-region.
Click on methodological notes and you'll find websites for the sources of the data (such as the International Civil Aviation Organization), as well as the date on which the statistics were last updated.
For accommodations, the database indicates month-to-month and year-to-date information about occupancy rates, hotel searches, hotel bookings and short-term rentals for each sub-region.
Graphs and numbers indicate exponential growth of the novel coronavirus in various countries, by month.
COVID-19 cases
We supplement this pandemic data with information from other credible sources. Our personal favourite website for tracking cases of the virus is the Johns Hopkins University of Medicine Coronavirus Resource Center.
Updated daily, its COVID-19 Dashboard features global and U.S. maps of hot spots, data on cumulative and active cases, incidence rate, case-fatality ratio and testing rate. For U.S. states, you can search by county, such as Miami-Dade and Pinellas in Florida.
The Johns Hopkins website also provides reliable information about COVID-19 vaccines, testing, contact tracing and diagnosing, treating and preventing the virus.
Specific advice for Canadians
The Government of Canada Coronavirus Disease Outbreak Update web pages are an excellent source of information for Canadians who are considering when and where to travel.
Regularly updated interactive maps of Canada and the globe illustrate the number of cases of COVID-19, deaths, cases per 100,000 people in the last 14 days and cases per 100,000 people over time.
In addition, it gives Canadians current information about measures to reduce COVID-19, travel restrictions, exemptions and advice, symptoms and treatment, awareness resources (some in multiple languages) and Canada's response to the pandemic.
More pre-travel resources
The UNWTO Tourism Recovery Tracker advises readers to follow the World Health Organization (WHO) guidelines to keep safe while travelling.
The WHO website has an excellent COVID-19 Travel Advice for the General Public Q&A page that addresses frequent questions, including: What precautions should I take during travel? Can ventilation reduce the risk of contracting COVID-19 on airplanes? What should I do after arriving at my destination?
After you've decided where you want to travel and when, it's imperative that you learn about the specific COVID-19 travel regulations for that destination. Tourist boards are great sources of up-to-date information about entrance requirements, curfews, quarantine rules, face mask policies and what attractions are open to tourists.
In mid-October, we checked a few Caribbean tourist board websites. We learned that Bahamas has a 10 p.m. to 6 a.m. curfew and that Jamaica specifies what you can expect in their hotels – digital check-in, digital or single-use menus, social distancing markers and elimination of self-service buffets.
The Antigua & Barbuda Tourism Authority website supplied links to safe-certified accommodations, tours and restaurants that follow government health and safety protocols. It also provided information about health-screening forms and temperature checks at the airport, taxi safety protocols and certified transportation companies for car rentals.
The good news
Although the Centers for Disease Control and Prevention website is published by the U.S. Department of Health & Human Services, it has many useful resources for Canadians.
One of the most helpful is its daily updated list of countries in which COVID-19 risk is high, moderate, low and very low. As of mid-October, seven destinations were on their COVID-19 Low Risk list, including New Zealand, Saint Barthélemy (St. Barth in the Caribbean) and Thailand.
Even more optimistic was their list of Destinations with Very-Low Risk of COVID-19. When we viewed it, the 22 destinations included Anguilla, Cayman Islands, Fiji, Taiwan and Vietnam.
At the end of October, for example, Anguilla had no active or suspected cases on the island. To ensure that it remains COVID-19 free, Anguilla's entry requirements include a negative PCR COVID-19 test result three to five days prior to arrival, along with travel health insurance that covers COVID-related treatment. Visitors quarantine in their approved accommodations for 10 to 14 days until they've received two negative test results done in Anguilla (cost: US$500 per couple). Afterwards, they are free to explore the sunny Caribbean island without restrictions.
According to the Caribbean Tourism Organization, as of late October, all Caribbean islands require visitors to quarantine. Regulations vary from island to island, so check tourist board websites for the details when planning your trip.
At time of writing, the UNWTO Tourism Recovery Tracker reported that 115 destinations (53% of worldwide destinations) had eased travel restrictions, an increase of 28 since July. Of these, two had lifted all restrictions, while the remaining 113 countries maintained some travel restrictions.
Finding the latest information
With the constantly changing pandemic, all examples used in this article may have changed by the time you read them.
That's why the regularly updated resources below are so helpful to anyone planning a trip. Some revise their data daily. Others revise it as the information changes, while still others have fixed update schedules.
The World Travel & Tourism Council (WTTC), for example, contacts global travel, cruise, hotel and air transport associations and WTTC members weekly to update the WTTC Traveller COVID-19 Hub.
In addition to information about international travel restrictions and travel health advice, it features a link to a very useful interactive world map. Click on any of the countries listed to the left of it and you'll find details (with references) about Border Crossings Status due to COVID-19.
The bottom line? Always check the date of the last revision when searching these resources to help you make informed travel decisions.
Resources
UNWTO Tourism Recovery Tracker – www.unwto.org/unwto-tourism-recovery-tracker
Johns Hopkins University of Medicine Coronavirus Resource Center – coronavirus.jhu.edu/map.html
Government of Canada Coronavirus Disease Outbreak Update – www.canada.ca/en/public-health/services/diseases/2019-novel-coronavirus-infection.html
Centers for Disease Control and Prevention COVID-19 Travel Recommendations by Destination – www.cdc.gov/coronavirus/2019-ncov/travelers/map-and-travel-notices.html
World Health Organization Q&A: COVID-19 Travel Advice – www.who.int/emergencies/diseases/novel-coronavirus-2019/question-and-answers-hub
WTTC Traveller COVID-19 Hub with link to Border Crossings Status – wttc.org/COVID-19/Traveller-Hub
Barb & Ron Kroll publish the trip-planning website – www.KrollTravel.com
Story and photos © Barb & Ron Kroll