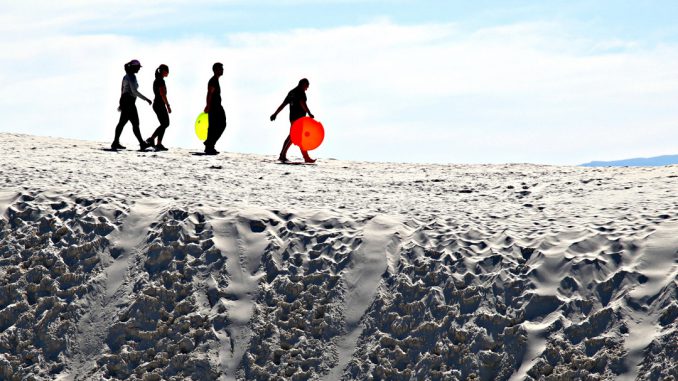 Like a mirage, dazzling white sand dunes shimmer in the tucked-away Tularosa Basin in southern New Mexico.
Remember how much fun it was to play in the sand as a kid? It's still pretty fun, as it turns out. And the sandbox is a lot bigger at White Sands National Park, a system of rare white gypsum sand dunes intertwined with raised boardwalk trails and a single loop road. Sunset and sunrise are obviously the golden hours for photographers, but any time is a good time for some sand-dune sledding, kite flying and hiking.
Wisps of sand ripple into the majestic white dunes at this suitably named national park. The dunes here aren't composed of your typical beach sand, but rather from gypsum crystals left behind from a nearby dried-out lakebed. The result looks more like a white-sand version of the Sahara Desert than like New Mexico. The dunes are an amazing sight so far inland, best experienced on horseback or by zipping down the dunes in one of the plastic saucers sold at the visitor centre gift shop.
The park ranges in elevation from 1,185 metres to 1,264 metres above sea level. There are approximately 71,200 total hectares of dune fields here, with 30,000 hectares (about 40 per cent) located within White Sands National Park. The remainder is on military land that is not open to the public.
This region of glistening white dunes is in the northern end of the Chihuahuan Desert within an "internally drained valley" called the Tularosa Basin. Typically, gypsum is rarely found as sand because it dissolves in contact with water.
Gypsum is a common mineral in rocks around the world and is extremely soft. It can break down easily and the grains reflect light that gives off a snowy appearance. What allows gypsum sand to form is water. The park service says that White Sands is a "wet environment" at 100 per cent humidity.
The dune field is very dynamic, with the most active dunes moving to the northeast at a rate of up to nine metres per year while the more stable areas of sand move very little. The pure gypsum (hydrous calcium sulfate) which forms these unusual dunes originates in the western portion of the park from an ephemeral lake or playa with a very high mineral content.
As the water evaporates, the minerals are left behind to form gypsum deposits that eventually are wind-transported to form these white sand dunes. While there is consistent wind that moves the dunes, a shallow water table beneath the dunes "acts like a glue," holding them in place.
Many species of plants and animals have developed very specialized means of surviving in this area of cold winters and hot summers with very little surface water and highly mineralized ground water.
It was in the midst of the Great Depression when President Herbert Hoover declared this swath of pale dunes a national monument. Now, 87 years later, White Sands has been declared the United States' 62nd national park.
The history of the newly minted White Sands National Park goes back far beyond these presidential decrees, however. A unique series of fossilized footprints known as the White Sands Trackway shows that almost 12,000 years ago, ancient humans were stalking giant sloths here, hunting varieties of megafauna that died out by the end of the Pleistocene Epoch.
It was 2,000 years later that the enormous gypsum dunes for which the new national park was named began to form, the result of steady evaporation of what was once a vast inland sea and, later, a lake between the San Andres and Sacramento Mountains. Prevailing winds eventually swirled those white gypsum sands into dunes.
By the time European settlers arrived in the 1800s, the area was well known to bands of Apache who lived in the Tularosa Basin and surrounding mountain ranges. Their descendants now live on the Mescalero Apache Indian Reservation between Fort Stanton-Snowy River Cave National Conservation Area and Lincoln National Forest.
The isolation and weather patterns of the Tularosa Basin create a unique experience for park explorers. Visitors can hike (trails range from easy to extremely difficult, perfect for every level of experience), partake in education ranger-led programs, and even sled down the dunes in a few designated places.
Dunes Drive, a 12-kilometre scenic drive, leads from the visitor centre into the heart of the gypsum dunefield. The first four miles of Dunes Drive are paved and the last six kilometres are a hard-packed, gypsum road. The road is suitable for cars, motorcycles, recreational vehicles and buses. Along the road, you will find wayside exhibits, hiking trails, picnic areas, vault toilets and parking areas.
The round-trip drive takes approximately 45 minutes without stops along the way. However, you may want to allow additional time for taking walks in the white sand, hiking a boardwalk over the dunes, photography or learning about the natural and cultural history.
The hikes within the park do have trail markers, but there are miles and miles of dunes which you can explore with no markers at all. Don't count on tracing your footsteps back, because winds can easily erase them in the sand.
One of the most fun things to do in White Sands is to go sand sledding, so grab your sled and go for a ride! You can buy a sled at the visitor centre.
Given its arid climate, the temperatures at White Sands vary greatly both throughout the seasons and within a single day. The most comfortable time to visit weather-wise is autumn, when daytime temperatures reach the high 20s with light winds. Spring can also be comfortable, when the temperature varies from 4 or 5 degrees up to the low 20s. However, strong windstorms are somewhat common during these months. In both summer and winter, you'll be dealing with hot and cold extremes, so you just need to be extra prepared for both.
The last place to fill up any water containers is the visitor centre, so make sure that you have enough with you when you enter White Sands. Bring one litre of water per person per day. If it's hot, you'll probably drink it all, but don't forget to hydrate even if it's cool and you don't feel as thirsty.
The bright sun is intensified by the reflection off the snow-white sand. Make sure that you have a wide-brimmed hat with UV protection and sunglasses. And, of course, never forget the sunscreen!
Be prepared for the wind. Strong windstorms are common from February through May, but it can be windy any day of the year. When we visited in late February, it was mostly calm throughout the day, but the winds started picking up by mid-afternoon.
Visiting White Sands National Park is an exciting experience, but it is very important to safely enjoy the park. Below are tips for a safe and enjoyable visit to White Sands:
Drink plenty of water. Rest often! Heat stroke can happen fast.
Know where you are. Wind erases your tracks and GPS can be unreliable. Never hike alone.
Be prepared. Sand reflects the sunlight. Wear a hat, sunglasses and sunscreen, even in winter.
Worth Pondering…
Life is not obvious here. It is implied, or twice removed, and must be read in signs or code. Ripple marks tell of the wind's way with individual sand grains. Footprints, mounds and burrows bespeak the presence of mice, pocket gophers and foxes. − Rose Houk and Michael Collier
Story and photos by Rex Vogel