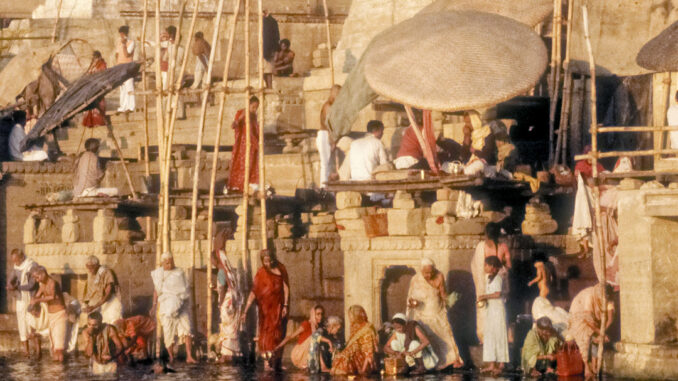 A trip to India shatters preconceived notions
Before we travelled to India, its name triggered images of maharaja's palaces, ornate Hindu temples, the Ganges River and the Taj Mahal. During our travels through this democratic republic of 1.6 billion people, we discovered that India encompasses much more than we had initially imagined.
The seventh-largest country in the world (about one-third the size of Canada), India is many countries in one. Architecture, scenery, attractions, language, religion, traditional clothing, foods, festivals and handicrafts vary regionally.
Five thousand years of history, decades of British rule and 76 years of independence have created a country that's endlessly fascinating and guaranteed to provide sensory overload.
Multifaceted way of life
Culture is the first reason to visit India. Varanasi, 700 kilometres southeast of India's capital New Delhi, is home to more than 2,000 temples and shrines. The Ganges River ̶ which Hindus believe is the goddess Ganga ̶ flows through this sacred city of the Hindu god Shiva.
During an unforgettable sunrise boat tour, our guide explained that every Hindu wants to make at least one pilgrimage to Varanasi. Many come here to die, believing that they will be liberated from the cycle of reincarnation (rebirth) and go straight to heaven.
Mesmerized, we watched people gather on serene riverbank ghats (stone steps) to purify themselves by bathing and drinking the water. Wispy clouds of pewter-coloured smoke arose from cremations on the burning ghats. Pilgrims made flower garland offerings in temples.
It's not surprising that a country with six major religions and a pantheon of deities, saints and prophets has a festival or fair nearly every day of the year.
One of the most famous is Diwali – the early-winter Festival of Lights – marking the beginning of the Hindu New Year. Millions of candles and electric lights illuminate homes and public buildings. During our trip, children invited us to join them by floating candles in curled leaf boats on the river.
In the northwest state of Rajasthan's desert, livestock owners buy, sell and herd more than 50,000 camels and cattle during the annual autumn Pushkar Fair. Camel competitions, food stalls, music and folk dancing draw 400,000 tourists, including locals dressed in their finest apparel and jewellery.
Classical, folk and tribal dances highlight most festivals. The variety of musical instruments, costumes, makeup and jewellery amazed us.
Scrumptious food
A second reason to visit India is for its food. India's cuisine varies by region, with meat and breads more popular in the north and hot curries and rice dishes more common in the south. Numerous delicious dishes tempt vegetarians. While spices flavour many foods, their heat isn't always overwhelming.
Hotel restaurants serve bountiful buffets of continental, Chinese and Indian cuisine. Try the tandoori (clay oven)-baked breads and marinated meats, mulligatawny soup, turmeric-spiced chicken broth flavoured with fresh coconut milk and lime, rogan josh (curried lamb), kofta (spicy meatballs often stuffed with fillings and cooked in a rich sauce) and thali, a platter of saucy meat and vegetable dishes for scooping up with torn pieces of deep-fried poori bread.
Restaurants and street vendors sell mouth-watering sweets. Our favourites? Jalebi (deep-fried sweet pretzels in syrup), ladoos (spherical sweets) and rasgullas (cheese balls flavoured with rosewater syrup).
Magnificent buildings
Splendid architecture is the third reason to visit India. Undoubtedly, the country's most famous building is the Taj Mahal in Agra – a four-hour drive southeast of New Delhi.
Shah Jahan built this monument of love between 1631 and 1643 as a tomb for his second wife, who died giving birth to their 14th child. Twenty thousand labourers used 2½-ton slabs of marble hauled by 1,000 elephants to cover the tomb. Its inlaid flowers, made from semi-precious stones, are so detailed that a loonie-sized flower contains 64 pieces – so skilfully placed that our fingertips couldn't detect the joints.
During the full moon, the Taj Mahal's white marble glows evocatively. It's equally beautiful at dawn, when the sun's first rays change it from cotton candy pink to snow white.
The Taj Mahal reflected in the pools of the surrounding gardens is gorgeous, but the view from the windows of Agra's Red Fort is poignant. Imprisoned here by his son for the last seven years of his life, Shah Jahan could only gaze at his creation from across the river.
Rajasthan is known for its forts and palaces. The Palace of the Winds is the landmark of the walled capital Jaipur, known as the "Pink City" for its rose sandstone buildings. From here, court ladies observed city life while hidden by its elaborate screens.
Maharaja abodes
Another example of India's lavish architecture is Jaipur's City Palace. Red-turbaned men guard it, because the royal family still lives here. Other rooms are open to the public as a museum, which displays arms, paintings, carpets and manuscripts.
Unique hotels, including several that were former palaces, are a fourth reason to visit India. Our favourite is Udaipur's Taj Lake Palace, which floats like a white lily on Lake Pichola. Guests live like maharajas (Indian kings and princes) in the sumptuous rooms and marble courtyards. The Taj Lake Palace was a film location for scenes from the 1983 James Bond movie Octopussy.
The hotel's rooftop domed pavilions are especially photogenic at sunset. Across Lake Pichola, Udaipur's City Palace also boasts impressive architectural details, including marble filigree windows.
Tributes to the past
Architecture often entwines with history, the fifth reason to visit India. A notable example is the ghost town of Fatehpur Sikri, 35 kilometres southwest of Agra. Emperor Akbar transferred his capital here from Agra after a local holy man's blessing enabled his wife to conceive a son and heir.
Today, childless women tie coloured threads on the marble screen of the holy man's mausoleum as a fertility ritual.
Completed in 1575, the red sandstone city took six years to build. By 1600, its meagre water supply couldn't sustain the population, so Akbar abandoned the city. Of the 4,000 buildings, only 20 remain today.
Our best view of the deserted town was from the Panch Mahal (Building of Five Storeys), which was a pleasure palace for the emperor and his harem.
Another example is the 16th-century palace of Amber, a UNESCO World Heritage Site located 11 kilometres from Jaipur. The highlights? For us, it was the panorama from its lofty windows and the rooms with ornate glass- and mirror-inlaid marble walls.
Artists' haven
India has a thriving arts-and-crafts scene, a sixth reason to visit. Intricate sculptures decorate Hindu, Jain and Buddhist temples throughout the country.
Especially impressive is the horse-drawn, 24-wheeled stone chariot in the 13th-century Konark Sun Temple on India's northeast coast. Each lavishly ornamented wheel is 3.7 metres in diameter. It took 12 years for 1,200 sculptors to embellish the temple with carvings.
Although many temple deities, human and animal figures are ancient, artists continue sculpting religious art today.
Peering through open workshop doors, we watched craftsmen carving stone, block-printing fabrics for saris, weaving, painting and designing jewellery. Some of them took the time to tell us about their techniques and designs.
Unique souvenirs
Incredible shopping is the seventh reason to visit India. Ornate brassware, enamelled tableware, sandalwood sculptures, block-printed fabrics, glittering bangles, delicate silver filigree jewellery and fragrant spices beckon from shops and bazaars.
Some handicrafts are regional, such as the marble plates inlaid with jade, mother-of-pearl and semi-precious stones that we admired in Agra. As we watched an artisan creating one, he explained that he used the same tools as the builders of the Taj Mahal.
Gem merchants tempt shoppers with mounds of glittering precious and semi-precious stones. In some clothing shops, you can select a bolt of shimmering silk from a rainbow of offerings and request a made-to-order sari.
Large modern stores usually have fixed prices, but in the bazaars and small shops, haggling is the rule. Our guides recommended that we start at 50% of the asked price and work up from there. As a rule, the price of an object is based not on its value, but by how much you want it.
Never-ending surprises
We expected to see India's main attractions during our travels, but we didn't predict the numerous surprises that we'd encounter – the eighth reason to visit India.
In Udaipur, we discovered the expansive Garden of the Maidens, dating from the 18th century. Four marble elephants spray water into a lotus pond, surrounded by pavilions, lush vegetation and other ornamental pools.
We also didn't anticipate finding a nearly 300-year-old observatory in Jaipur. After it was completed in 1734, the maharaja (an astronomer) used its 19 astronomical instruments to forecast local time, eclipses and auspicious horoscopes.
The UNESCO World Heritage Site contains the world's largest stone sundial. When we compared its time to our watches, we observed a one-minute difference.
During our drive between Pushkar and Fatehpur Sikri, a herd of water buffalo temporarily obstructed our route. A short distance away, we watched in astonishment as a flock of vultures devoured a dead water buffalo.
Other surprises awaited – ox carts on India's rural roads and cows (sacred to Hindus) roaming city streets and creating udder chaos (pardon the pun) for both drivers and pedestrians.
Although initially amazed by the ubiquitous three-wheeled auto rickshaws, we soon discovered that they provided a fun and inexpensive way to travel short distances. We felt as if we were riding a motorized tin can as we looked over the driver's shoulders. Whenever a wandering cow blocked our route, he used his bulb horn to motivate it to move.
Even India's temples harboured surprises. At Khajuraho, a UNESCO World Heritage Site spread out over several square kilometres, our guide pointed out several erotic carvings ̶ too X-rated to publish their images in this article. He explained that this primitive stone marriage manual embellishes some of the 20 temples remaining from the original 85 built between AD 885 and AD 1000.
People-watching
The ninth reason to travel to India is for people-watching. The country is a photographer's paradise. Its streets pulse with life. So many irresistible images – both indoors and out – competed for our attention that we nearly got whiplash from rubbernecking.
Some examples: worshippers performing rituals in temples; a street vendor making sweets as his young son watches; a bejewelled mother hugging her child; a man saying farewell to his camel before selling it; farmers carrying greenery on their heads to feed camels; making chapatis (Indian flatbreads); and, a man reading as sunlight filters around him through filigreed marble screens.
India is, undeniably, the greatest show on earth.
So many choices ̶ the final reason to visit
Guided tours are the best way to see India, eliminating worries about local transportation, what to see and where to stay and eat. Tour guides offer invaluable insights into local lifestyles and answer the many questions that inevitably arise.
Several Canadian tour operators offer trips to India, including Bestway Tours, Craig Travel, Goway, Indus Travels, Trafalgar, Uniworld and Worldwide Quest. Ask your travel agent to find a tour that meets your budget, interests and time availability.
Even after two trips, we've barely scratched the surface of what India offers. We plan to return.
RESOURCES
For information about India, visit the Ministry of Tourism, Government of India website: incredibleindia.org
Story and photos © Barb & Ron Kroll