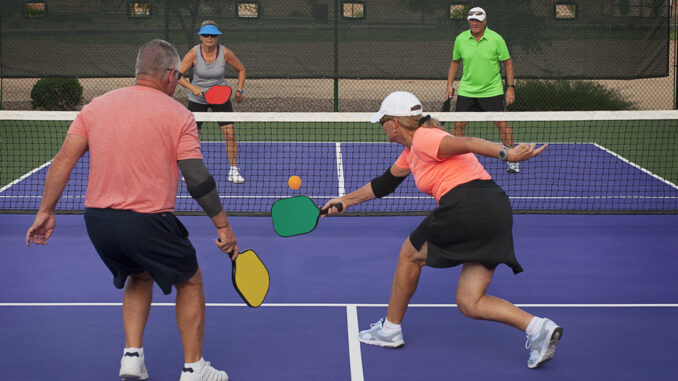 Pickleball becomes North America's fastest-growing sport
Pickleball is still a hugely popular sport, with leagues and courts popping up everywhere from coast to coast and across North America. Pickleball Canada recently hired a national research company to survey more than 2,000 Canadian households about household participation in various sports, including pickleball, soccer, hockey, tennis and golf. The survey, conducted in January 2022, shows 8% of Canadian households reporting that at least one household member plays pickleball once per month. This means that there are one million individual Canadians playing pickleball at least once a month, with 45% playing four or more times/month. This almost triples the number of pickleball players in Canada in two years.
The sport continues to be popular with older adults, who typically play during the week, but it is now also attracting younger, working adults as facilities become available during evening hours and weekends. In fact, the age group which shows the fastest rate of growth are players aged 18 to 34, with a 26% increase over the number of players in this group playing at least once per month in 2020. This age group also reports a very high frequency of play, with 13% playing 15 or more times a month.
Pickleball isn't a new sport; it has been around for several decades. In the summer of 1965, Joel Pritchard, Bill Bell and Barney McCallum were on Bainbridge Island, Washington playing a new paddle sport and within days, Joel's wife Joan had come up with the name "pickle ball." It was a reference to the "pickle boat" of crew races in which oarsmen were chosen from the leftovers of other boats.
There are several reasons pickleball resonates with so many people. First, it's an easy sport to learn. It takes most people just five-10 minutes to grasp the concept of this activity. It doesn't require a lot of equipment: two paddles (or four for doubles) and a Wiffle ball. Many tennis courts also contain the grid lines for a pickleball court, so playing either indoors or outdoors is possible. It's also very low impact – the regulation-sized court itself is smaller than a tennis court (it is actually the same size as a doubles badminton court) and there is less ground to cover, meaning that there isn't a lot of running around or added strain while playing. According to The New York Times, some research even suggests that it may be safer than tennis for people with heart issues.
But when you ask avid pickleballers why they enjoy the sport so much, you'll usually get the same answer: because of its social aspect. With smaller courts and a lot of downtime, it's easy to hold a conversation while playing. The most common and popular way to play a pickleball game is with a partner against another team of two, so there are lots of opportunities to meet new people or spend quality time with those whom you know. And because pickleball appeals to a wide range of people of all ages, from children to seniors and everyone in-between, it's a wonderful family activity, too.
If you're interested in picking up this sport, visit the Pickleball Canada website at pickleballcanada.org. You can find provincial and territorial associations, news about the sport, upcoming tournaments and championships, and even the steps which you need to take to become a pickleball officiant.
By Jennifer Cox