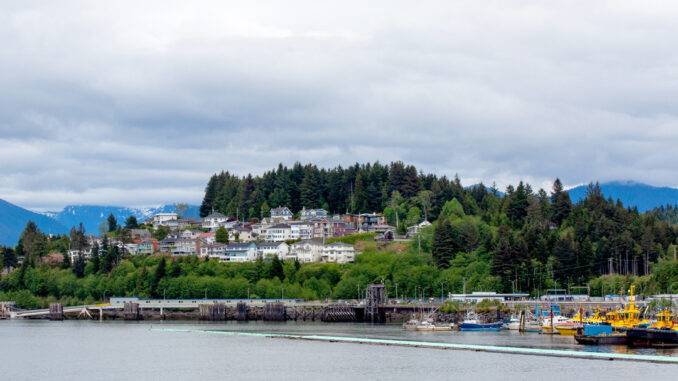 What do cows, totem poles, salmon, the Titanic, ancient petroglyphs and goose tongues have in common?
They are all part of Prince Rupert's fascinating heritage.
The city of 12,200 people surprised us as soon as we opened a Tourism Prince Rupert map during our Air Canada flight from Vancouver. We knew that it was on the northwest coast of British Columbia, but we didn't know that it was situated offshore on Kaien Island. As our plane descended towards the pine-covered islands hugging the fjord-indented coastline, we discovered that the airport was also on an island (named Digby).
Our next surprise was Prince Rupert's 22-kilometre-long harbour. One of the deepest and most protected natural harbours in the world, it remains ice-free year-round.
The harbour was one reason why city founder Charles Hays decided to make Prince Rupert the western terminus for his transcontinental Grand Trunk Pacific (GTP) Railway. He lured eminent architects to design B.C.'s first planned city, along with magnificent hotels along the GTP route.
The Japan connection
Hays's second reason was because ships crossing the Pacific to Asia take a day or two less time from here. Prince Rupert is closer to Japan than it is to Vancouver.
There's an official Shinto shrine at Mariner's Park on the waterfront. It's the Kazu Maru, a fishing boat that drifted over from Owase, Japan (Prince Rupert's sister city) after its skipper drowned. A poignant bronze statue of a mariner and a wall of names also commemorate fishermen who've died at sea.
Shattered dreams
Unfortunately, Hays didn't realize his dream of making Prince Rupert a port to rival Vancouver. Returning from a fundraising trip to Britain, he booked passage on the Titanic.
In 1914, two years after his death, the first GTP train chugged into Prince Rupert. The world was at war and the GTP merged with Canadian National Railways to avoid bankruptcy.
Inside Passage port
Nowadays, visitors get here by VIA Rail, as well as by air, road and the sea (BC Ferries and cruise ships). We were amazed to learn that Prince Rupert Cruise Port welcomed nearly 41,000 passengers in 2022, on cruises from Vancouver or Seattle to Alaska.
An additional 20,000 passengers are expected this year, on Princess, Oceania, Carnival, Holland America, Windstar, Seabourn and other cruise lines.
Moo!
Cruise passengers spill out from the Northland Cruise Terminal into Cow Bay. This trendy bovine-inspired district – with its black-and-white Holstein-coloured fire hydrants, trash cans and signs – was a pleasant surprise.
Cow Bay acquired its name in 1909, when the first herd of dairy cows arrived by ship. No suitable dock was available to unload the cattle, so they had to swim ashore.
In the newly opened waterfront Cow Bay Container Market, artisans and vendors sell their wares from refurbished shipping containers. Beyond the marketplace, historic buildings now house boutiques, galleries, restaurants and coffee houses such as Cowpuccino's.
Cow Bay is also an outdoor gallery for several of Prince Rupert's 30 murals. Part of the city's public art program, they depict the community's cultural heritage, natural environment and history.
Created by local and visiting artists, some of the murals feature boats, whales and grizzly bears. Prince Rupert Adventure Tours, located in Cow Bay, offers boat tours for whale-watching and viewing grizzly bears in nearby Khutzeymateen Valley, North America's densest natural grizzly bear habitat.
Halibut Capital of the World
It's not surprising that many Cow Bay restaurants serve seafood. A long history of fishing earned Prince Rupert the title of "The Halibut Capital of the World." Numerous charter fishing companies draw sportfishermen searching for massive halibut, trophy-sized Chinook salmon, Coho salmon, red snapper, ling cod, rock cod and Dungeness crab.
We watched smiling participants return with fish stories and photo-worthy catches. Local shops offer fish-cleaning, smoking, freezing and vacuum-sealing, as well as fishing licences and tackle.
If you don't have the time or inclination for deep-sea fishing, you can buy delicious smoked sockeye, salmon pâté and halibut steaks from vendors such as Dolly's Fish Market and Fukasaku Market.
Walking through history
In the early 1900s, more than 200 salmon canneries lined the coast. One by one, they closed. Today, none remain.
North Pacific Cannery National Historic Site in Port Edward, 24 kilometres southwest of Prince Rupert, showcases the history of the fishing industry and the role of canneries in the area. It was the last remaining cannery village on North America's West Coast until it closed in 1968.
On excellent free guided tours, we learned that nearly 1,000 people once lived and worked in the North Pacific Cannery. It was built in 1889 as a village where European bosses presided over segregated communities of Chinese, Japanese and First Nations workers.
Strolling along boardwalks, we peered into wooden, tin-roofed homes and stores once used by families that worked here. Fishing and canning equipment occupy the main building.
The company store (circa 1939) stocks boxes of White Owl cigars, cans of insect spray, bottles of Kik Cola and tube radios. The Mess Hall – now the Cannery Café – serves delicious salmon chowder and homemade baked goods.
Long before Prince Rupert
The sea's bounty links the past and present. Coast Ts'msyen people have fished in this region for more than 10,000 years. Their art, ceremonial regalia, totem poles, songs, dances, traditions and culture enrich Prince Rupert today.
Totem poles – created by Ts'msyen and other First Nations – punctuate the city. Indigenous artists depict their family lineage and cultural heritage by carving family crests, humans, animals, birds and fish into the stately trunks of western red cedar trees.
In Prince Rupert, we viewed totem poles in Cow Bay, Sunken Gardens Park, Totem Park and at the not-to-be-missed Museum of Northern BC. Located steps from the cruise terminal, the museum's exhibits, information plaques and tours portray thousands of years of local Indigenous history and culture.
Cultural treasures
In addition to totem poles, we admired masks, carvings, stone and wooden utensils, paintings, sculptures and ceremonial objects. Baskets – so tightly woven that they held water without leaking – and the shaman's headdress made from grizzly bear claws were especially fascinating.
Informative videos described a totem pole-raising at the museum's Carving Shed, the early days of halibut fishing and Indigenous weaving.
We admired works by Ts'msyen weaver William White. During the museum's 1996 exhibit of his cedar bark and textile weavings, William wove the first Ts'msyen Raven's Tail robe created since European contact. (Made from white mountain goat wool, these ceremonial robes feature black-and-white geometric designs.)
Archaeological artifacts in the museum include a petroglyph from the region and a replica of The Man Who Fell from Heaven (not currently on display). Numerous Ts'msyen oral histories explain the origins of the curious human impression embedded in stone on the rocky shores of Metlakatla, seven kilometres northwest of Prince Rupert.
David Archer, a retired anthropology instructor at Coast Mountain College, did 18 seasons of archaeological work in the Prince Rupert area and on its offshore islands. He notes that the region has close to 200 recorded archaeological sites, but the inventory is not yet complete, so there are likely more sites that are not yet identified and recorded.
Foraging for wild foods
Nowadays, Ts'msyen people still catch salmon and dry it as their ancestors did for millennia. The harvesting of traditional foods, including berries and seaweed, continues to be passed down through the generations as an important part of their culture.
A Walking Trails brochure – downloadable from the Visit Prince Rupert website – describes several trails around the city. As we strolled along the paths that hug the coastline, we spotted plants that were gathered by Indigenous people for food.
We sampled the crunchy, salty, pickle-like stems of glasswort plants, feasted on wild red huckleberries and tasted goose tongue. Also called sea plantain, goose tongue grows in intertidal areas and can survive saltwater immersions. Indigenous people harvested the fleshy green leaves in spring to eat raw or cooked.
We also ate cow parsnip raw, after peeling the thick stems. The taste and texture are similar to celery.
So many choices
With appetites stimulated by our walks, we were eager to try some local restaurants. For a city of 12,200 people, Prince Rupert offers a remarkable number of eateries.
We expected to find seafood on many menus. What astonished us was the number of ethnic restaurants – Chinese, Italian, Indian, Mediterranean, Middle Eastern and Vietnamese – in addition to steakhouses, British pubs, cafés, bakeries, fast-food outlets and delis.
Deciding to combine both seafood and international cuisine, we dined on sushi at a Japanese restaurant. The salmon tasted so fresh that it was likely pulled from the sea shortly before it reached our plates.
As for drinks, we were amazed to learn that Prince Rupert even has its own brewery – Wheelhouse Brewing Company. Located in a former blacksmith shop, it brews a variety of handcrafted beers using local ingredients such as Sitka spruce tips.
For us, it confirmed only one thing. Whether you travel here by air, road, rail, ferry or cruise ship, Prince Rupert is one surprising city.
By Barb & Ron Kroll
RESOURCES
For information about Prince Rupert, visit the Tourism Prince Rupert website: www.visitprincerupert.com and the Destination BC website: www.hellobc.com
Barb & Ron Kroll publish the trip-planning website www.KrollTravel.com