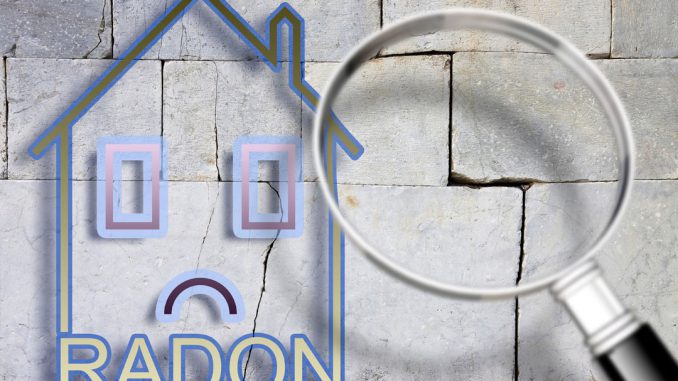 It has been only in very recent years that health researchers, public health agencies and governments have paid much attention to the potential risks of radon emission. We are all aware of the precautions which we must take to protect ourselves from fire, carbon monoxide and accidents in our homes but generally, little is known about radon risk. However, in recent years, more studies done by federal and provincial governments, research organizations and public health units have demonstrated that many of our homes contain levels that may be injurious to our health.
Radon is a radioactive gas that comes from uranium found in soil, groundwater and rock and is emitted into the outside air. It is colourless, odourless and tasteless and can only be quantified by careful testing. In the outside air, it quickly dissipates and creates no health hazard but, if it creeps into your house, school or workplace in elevated levels through the foundation, it can become a risk to your health. Our homes are most often closed to outside air exchange − especially in newer homes − and are therefore often susceptible to higher levels of radon. In rural homes, radon may be present in groundwater from wells. If the ground emits high levels of radon, it may be absorbed by the water and, if used for showering, laundering and dishwashing, could pose a risk. Testing for groundwater levels of radon can be arranged through your local health agency and there are methods that can reduce or remove radon from the water supply.
Studies are now showing that long-term exposure to radon is the second leading cause of lung cancer after smoking and the leading cause of lung cancer for those who have never smoked. It is estimated that 13% of cases of lung cancer are attributable to excess radon exposure. For those who smoke, the risk is even greater. Research has shown that the exposure is present throughout Canada and is higher in certain geographic areas. Alberta, Saskatchewan and Manitoba have some of the highest levels. In recent years in many areas of the country, public health units and government agencies initiated large-scale studies to identify the problem. I was one of the volunteers for a study by The Kingston Frontenac Lennox and Addington Health Unit conducted during the winter of 2018/19 to have my house tested and when the result showed that the level of radon in our house was somewhat elevated, I became much more interested in the issue.
The research from these studies has now shown that the prevalence of radon exists throughout Canada. Overall, it is estimated that approximately 20 per cent of homes across Canada have levels that are higher than Health Canada's safety guidelines. During my medical training, there was never any mention of radon as being a health hazard and only recently have educators and agencies paid more attention to this risk.
In most jurisdictions, building codes have not identified construction requirements to minimize radon seepage. This has been especially worrisome as more recently constructed homes have been shown to have higher levels on average than older homes. It is thus concluded that newer constructed homes are built more airtight, allowing the gas to be more effectively trapped. Some jurisdictions in Canada, including my city, have amended building codes to mandate construction methods that mitigate the levels of radon entering the home. At present, there is no province that has adopted any regulations which mandate radon-mitigating construction requirements, even though some provinces require new homes to be built with a radon mitigation rough-in, which makes it less expensive to install a whole system if radon is later detected at elevated levels.
In spite of the well-researched issue and the known risk of developing lung cancer, most homeowners have never tested their homes. Even in real estate transactions across the country, only in Quebec is there a requirement that any known radon level needs to be revealed during a sale, while B.C. and Alberta require disclosure only if the level exceeds Canada's safety level. Studies have shown that families with young children moving into newer homes are especially at risk of being exposed to elevated levels of radon.
Acceptable levels of radon in dwellings are variable, which can cause confusion. Using the units that measure the amount of radon decay, a becquerel, the published guideline by Health Canada is 200 Bq/m3, in the USA it is 140 Bq/m3, and the World Health Organization's is 100 Bq/m3. Levels measured above these safety guidelines are considered unsafe by those bodies and, if found from testing, your home should precipitate discussion about remedial measures to lower the level. My test was reported as 137 Bq/m3 and, in spite of it being within Health Canada's safety level, my public health unit recommended "that you consider mitigation to lower the radon levels in your home." Hopefully in the near future a worldwide universal safety level will be established.
Testing kits are available from a number of sources. A reputable source is Evict Radon, a Canadian non-profit research organization associated with the University of Calgary. By purchasing their test kit, you are enrolled in their study to research radon exposure across the country and develop new ways to protect our health. Their website is evictradon.org. There are other sources for the supply of the kits and testing that can be easily found on the internet or through your local public health agency. The price for the kit, including shipping to you and the testing, are in the range of $30 – $60. Return shipping of the kit will cost on average $10. Most commonly, the kit is hung in the lowest commonly used room in the house for at least three months and the testing should be done during the winter season when doors and windows are usually closed. The test kits are then returned for testing and reporting.
There are a number of companies in Canada that provide mitigation services. TAKE ACTION ON RADON (takeactiononradon.ca) is a national initiative funded by Health Canada which can assist in finding reputable testing and remedial professionals. Costs for mitigation in homes needing action vary according to the construction and source of the radon and can range from $500 to $2,500. The radon mitigation system removes radon from your home by removing the gas from below the building or from the basement and expelling it above and away from the building. A fan at the top of the system circulates fresh air in and expels the air containing radon to the outside.
It is likely that in the near future regulations will require radon levels to be reported in all home sales. Testing now is most important to allow you to take remedial measures if levels of radon in your home are exposing you to a risk of lung cancer, which can be easily reduced.
by Dr. Robert MacMillan MD