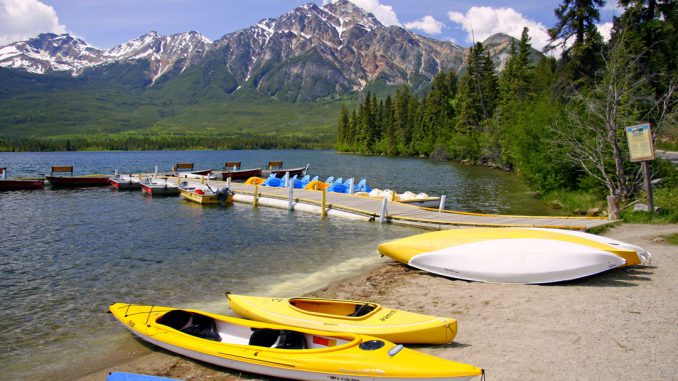 "That is happiness; to be dissolved into something complete and great." − Willa Cather
Lying in his grandmother's garden under the warm sun, Jim Burden, the narrator of Willa Cather's 1918 novel My Antonia, observes the perfection of the ladybugs crawling next to him in the grass. In the peaceful joy of the moment, he concludes that happiness is found when we acknowledge the simple beauty of nature that exists all around us and relax into our place within it.
This is the moment we've been waiting all winter for − spring! Spring is finally here! Spring means the beauty of nature, outdoor activities and, often, it means travel.
Spring is the perfect time of year for outdoor activities. Not too cold, not too hot and, in many cases, not yet crowded with summer travellers.
Believe me, the older one gets, the more we feel the cold! So, with winter behind us, it's time to open up the windows and feel that warm, spring air.
Look around you and you'll notice that everybody seems to have an extra spring in their step with those glum winter moods now lifted. There's a lot to love about spring… including travel. In fact, spring might just be the best time to travel. Why? Read on.
Of course, the number-one reason to travel in spring is the warmer weather. While you may not be guaranteed summer-like temperatures unless you're lingering awhile longer in your snowbird roost, the weather in spring can be very pleasant.
Summer can often be unbearably hot, which is another reason that spring travel is so appealing.
With the arrival of warmer weather, hiking trails reopen, parks become picnic grounds again, children are out playing and we can start enjoying activities on the lakes and in the forests again.
Be it camping, boating or hiking, springtime is the best time to enjoy the great outdoors.
An aromatic and visual delight, spring is a rainbow of colours and a bouquet of smells where flowers bloom, skies are blue, birds return from the south and animals come out from their winter hibernation with newborns in tow.
However, travel can get costly. But money is not necessary to enjoy the warm winds, beautiful flowers and sunny days of springtime. There are many spring activities that are easy on the pocketbook and some are even free. Listed below are 10 inexpensive outdoor activities for springtime in an RV.
Spring camping
While summer may be the obvious choice for camping, spring can be an equally memorable time for a getaway. Talking about camping, Canada has so much to offer. It is a perfect way to enjoy a mixture of outdoor activities such as hiking, fishing, kayaking, picnicking and birding. What's more, the crowds will be much smaller than in summer. Depending on where you travel, spring can still be a chilly time of year for camping. But isn't that what campfires and s'mores are for?
Picnicking
Take your meals outside this spring. The prettier the setting, the better. Springtime is ideal for picnicking while surrounded by beautiful green fields, serene waters and blooming flowers.
Local parks make an obvious option.
It is a great way to catch up with friends, talk about life and enjoy good food. Accordingly, it is also great to combine hiking with picnicking as trekking can create stunning views. There are many public parks in Canada for a less-expensive picnic with breathtaking landscapes.
Hiking
"Of all the paths you take in life, make sure a few of them are dirt."
—John Muir
Hiking requires little in the way of equipment, although you do need reliable hiking shoes and possibly a backpack or hiking poles. You get to enjoy the great outdoors, while getting a little exercise.
Time to lace up your hiking boots! Maybe a strenuous trek up a mighty peak is what you're after. There's no better place than the Canadian Rockies. Jasper was recently named one of the 30 best national parks across the globe.
Outside, an online publication, has included the picturesque spot on its list of must-see destinations. Jasper is the only Canadian entry. The Alberta mountain town finds itself among the likes of Kruger National Park in South Africa, Fuji-Hakone-Izu in Japan, Plitvice Lakes in Croatia and Corcovado in Costa Rica, to name a few.
Jasper can sometimes be overshadowed by its cousin to the south, Banff, but Outside said that this park is the definition of "wild and scenic." The publication notes that it's the largest park in the Canadian Rockies, as it has one million-plus more acres than Banff. Jasper is also host to a robust population of wildlife, making it a popular tourist destination for travellers to explore.
Or maybe you see yourself walking along an ancient trail. Perhaps meandering down a boardwalk is more your speed. Whether you're looking for rugged slopes or a flat, smooth boardwalk, there's a national park trail for you. Provincial parks also offer many opportunities to hit the trail. Personal favourites include Mount Robson and Wells Grey in British Columbia and Writing-on-Stone and Lesser Slave Lake in Alberta. Get ready, adventure awaits!
Biking
Biking, like hiking, is a fantastic way to experience both easy and challenging trails throughout the spring season. Biking through national parks, provincial parks and local parks is a great way to see beautiful scenery and discover new places. Cyclists can travel by roads (which are sometimes car-free) and, in some parks, on select trails. There are many places in parks on which cars cannot go, but you can cover more ground and visit new places on a bike. Some parks offer bike rentals; others provide guided biking activities.
Sniff some wildflowers (but mind your allergies)
As Tom Petty sings, you belong among the wildflowers (the part he missed − unless you are allergic). And Mother Nature agrees. As the blooms begin to make an appearance, Annapolis Valley and the mountains are always a good bet. Spring festivals of note include the 88th Annual Annapolis Valley Apple Blossom Festival (May 25-30).
Fishing
A wide range of people go fishing and, if you ask different people why it is their favourite hobby, they will likely answer that fishing gives them relief from stress and they feel free. Freedom is what you experience when you go fishing. Whether you fish in a stream or lake, you experience and appreciate an environment that is entirely different from your ordinary life. When you interact with nature, you become a part of it. What better way to spend time in a beautiful setting.
Birding
Birding (or birdwatching) has become one of the fastest-growing hobbies in North America. As the name suggests, it's the act of watching, monitoring, feeding, filming or photographing birds − of which there are more than 450 different species in Canada.
One in five Canadians is doing it. And, according to the most recent Canadian Nature Survey, birdwatchers will spend an average of 133 days a year on the activity. That's more time than is spent on any other nature activity − including gardening, to which people dedicate more than 70 days a year, on average.
If you've been considering joining the ranks, there's no better time than the present to take the plunge − or at least dip your toes in. You can find birds most everywhere: any green space or open water source will do.
Spring migration is ideal for observing rare bird species; it is also stunning to see large groups of birds congregating during these seasons. There are many areas in Canada where anyone can go bird watching and most are free.
Beach trips
Beach trips in the spring offer a different experience than in summer. You probably won't be riding waves or sunbathing (depending on the temperature), but beach towns offer more than just tanning and swimming.
Most people enjoy walking on the beach. Dogs love it even more, making a beach trip perfect for those with pals of the canine persuasion. You can play beach sports (such as volleyball), fly kites, go running or pack a picnic lunch or dinner. Or, of course, you can go kayaking or canoeing.
Beach towns tend to be quieter in the spring, with lower costs. So skip the crowds and costs of summer beach trips and take your next beach vacation this spring.
Visiting a zoo
Most Canadian cities are home to some exceptionally well-maintained zoos that allow you to admire and interact with the unique wildlife of the region. Zoos frequently have lower admission rates during the off-season and smaller crowds than in summer. Visiting the zoo during springtime will allow people to experience seeing more newborn species and more interactive animals because there will be a smaller audience. Top zoos in Canada include the Toronto Zoo and Calgary Zoo.
Sprawled over 710 acres in the beautiful Rouge Valley, Toronto Zoo is the biggest in Canada, with more than 5,000 animals from 450+ species.
Located on lovely St. George's Island on the Bow River, Calgary Zoo is a gem among the numerous Canadian zoos and aquariums. The Conservatory Gardens & Butterflies section is a beautifully preserved living library of trees and plants.
Final word
Every spring, most of us can't wait to get outside for fresh air. But, after an exceptionally cold and snowy winter, getting outdoors feels all the more urgent. You don't have to spend a fortune to do it, either. Many spring outdoor activities are free or low-cost.
Worth Pondering…
Come with me into the woods. Where spring is advancing, as it does no matter what, not being singular or particular, but one of the forever gifts, and certainly visible.
− Mary Oliver, Bazougey
by Rex Vogel