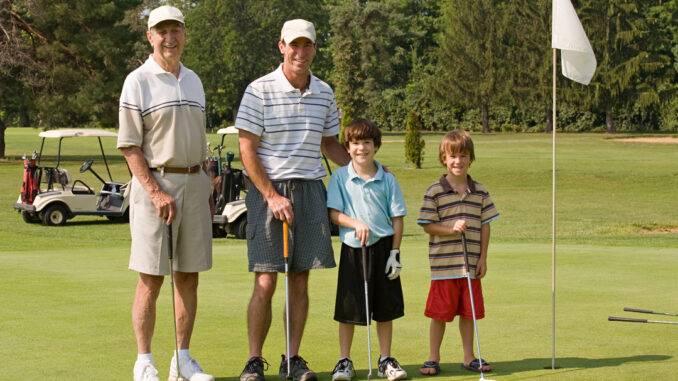 An expression that irks me, which my mom often uses, is "I should have!" I catch her every time she utters these three words in a sentence. Just saying this phrase means that you have unfulfilled wishes or are stuck thinking about something which you didn't do. As snowbirds, you are living the time of your life when regrets should not consume you. Instead, make the most of each day. Stay present and create new memories and experiences – especially with your grandchildren. The bond between you and your kids' offspring is unique and special. Strengthening this relationship is something that you should do. Why not use golf as the catalyst to enjoy more time together.
Thanks to my good friend and Canadian Golf Hall of Fame member Lorne Rubenstein for inspiring this column. We were sitting together recently at a celebration of life for a golf colleague of ours who had passed away. Lorne shared how, when he is not wintering in Florida, most of his time is spent with his grandkids, rather than with friends on the golf course. For him, this is a blessing. Lorne is fortunate that now, after many years of his family living a plane ride or long drive away, his kids have all moved closer to his home in the Greater Toronto area.
This conversation with my friend made me reminisce about my experience with – and memories of – my grandparents, who are all now gone. I was lucky to grow up with both sets of grandparents living in Toronto, just an hour's drive away from my hometown. This proximity allowed them to share in some of the activities in which my sister and I participated during our formative years, such as swimming (for my sister) and hockey and soccer (for me). Further reflection brought back memories of golfing with my mom's father when I was a teenager: at Tam O'Shanter in Toronto, at Westmount G&CC in Kitchener (where he joined me as a guest) and in Bermuda on a September morning overlooking the Atlantic Ocean, when my grandparents invited the whole family to celebrate their 60th wedding anniversary.
The point: golf is a great game to enjoy with your grandkids. What other activity allows you to spend endless hours together with oodles of time between shots – and holes – to talk. Use this time to strengthen your bonds. Share your wisdom of a life well lived and get to know more about their lives and their interests. During your round, share more about your parents and grandparents to make sure that this familial heritage is not lost.
As I've written here before, golf is a win-win – no matter your age – when it comes to the physical and mental health benefits. The fresh air is good for the soul and gets them (and you) off of your devices. Not to mention that the dose of vitamin D (as long as you wear sunscreen) is also essential and plays a key role in building and maintaining healthy bones. Contrary to what famed American writer Mark Twain once said, golf is not a good walk spoiled.
Pressed for time, or the kids still too young to make it through 18 holes? No problem. Try just nine, or take them to a driving range for an hour and go for an ice cream after. Another option? Treat your grandkids to a different golf experience such as that perennial family favourite: mini golf. Remember, it's not a matter of how long you spend together, but that you make the time to connect.
Mini golf – that old staple from kids' birthday parties – is still popular and there are dozens of courses from coast to coast. The best part is that both of your chances to make an ace increase significantly. If putting a ball past swinging logs and through windmills is not your cup of tea, how about virtual golf? Topgolf has yet to arrive in Canada, but it's another option to consider if your grandchildren visit you on your winter away next year. With more than 80 facilities globally, most in the U.S. (including four locations in Arizona and seven in Florida, with an eighth currently under construction in St. Petersburg), the sports entertainment complex features climate-controlled hitting bays that you can rent by the hour. All locations also feature a full menu. Topgolf provides the clubs as part of the fee and has equipment for youth and toddlers. Choose from a variety of games. In Topgolf's signature game, players score points by hitting balls to a target. Remember Angry Birds, that addictive puzzle video game that was all the rage back in 2010? At Topgolf, you can use the Angry Bird characters as golf balls to virtually smash things and have some competitive fun with your grandkids. In addition to the more than a dozen games, Topgolf also offers the ability to play some of the world's most iconic courses, including St. Andrews and Pebble Beach.
Life lessons
Finally, introducing your grandchildren to golf is a way to share and to instil good values and traits that are an inherent part of the game such as persistence, discipline, honesty, integrity and following rules. Golf also helps children, especially teens, to keep their emotions in check. It can even boost confidence and improve their mood, thanks to the endorphins released during a round of golf.
Finally, if distance prevents you from physically connecting with your grandkids, take advantage of modern technology and make virtual dates to connect with them via FaceTime, Zoom or Skype. Or, better yet, invite your grandchildren to spend time with you wherever you live this summer and take them golfing. This will give their parents a break and will give you a lasting gift. No matter what game you play, whether it's golf, another sport or a board game, remember that the number-one rule is to have fun.
So make time this summer and fall before you head to warmer climes to make memories with your grandchildren on – or off – the golf course. You don't want to end up in Florida, Arizona, or wherever you sojourn and, between sips of coffee or tea, utter aloud that regretful phrase, "I should have!" in reference to spending more time with your grandkids. Time is precious. The word is used in so many idioms that describe just how fleeting these moments are. As a snowbird and retiree, you often have extra time on your hands. So, don't just kill time. Instead, use it wisely.
By David McPherson