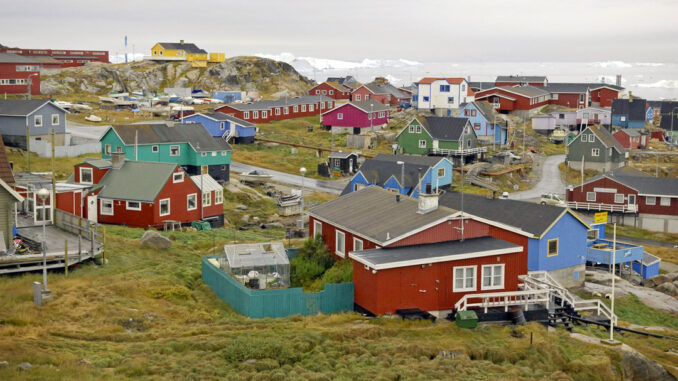 Discover friendly communities, fascinating cultures and intriguing history on this scenic High Arctic journey
West Greenland is not just green. Buildings in the town of Ilulissat are as colourful as red, blue, orange, purple and yellow crayons. They face Disko Bay, which brims with dazzling white and menthol-blue icebergs.
Most of these fanciful ice sculptures calved off the Sermeq Kujalleq Glacier. The most prolific glacier in the Northern Hemisphere, it generates so many icebergs that, if melted, they would supply New York City with water for one year. They flow from the glacier along the 60-kilometre-long Ilulissat Icefjord just south of the town into the North Atlantic. A UNESCO World Heritage Site, the fjord stretches from the Greenland Ice Cap (which covers 80% of Greenland's land area) to Disko Bay.
We arrived in Ilulissat on an Adventure Canada High Arctic Explorer cruise which departed from Kangerlussuaq, a former U.S. military base. Charter flights from Toronto brought us to Kangerlussuaq Airport – Greenland's primary flight hub.
Before boarding our ship to cruise north to Ilulissat, we photographed an airport sign that showed flying times to places around the world. We were six hours and 45 minutes from Los Angeles, but only three hours and 15 minutes from the North Pole!
Iceberg odyssey
Located 350 kilometres north of the Arctic Circle, Ilulissat is the third-largest town in Greenland with a population of 4,700. Its name means "iceberg" in the Greenlandic language.
The 190 passengers (mostly Canadian, but also American and European couples and solo travellers) on our ship were eager for closer views of the icebergs. We donned flotation vests and boarded Zodiacs (rubber inflatable boats) to circle around the magnificent icy flotilla formed from fallen snowflakes 10,000 years ago.
The most beautiful icebergs were turquoise, created from ice which was so compressed that it no longer retained air bubbles. Some were as large as islands. Others were smaller, but shaped like whimsical castles with spires and caves. When a passenger asked if we could explore one of the icy caverns, our Zodiac pilot declined with a warning: "Icebergs can tip or calve unexpectedly."
Circling and swimming fulmars and gulls captured our attention as we returned to Ilulissat. They couldn't resist the fish tidbits tossed from boats by fishermen as they cleaned their catches of turbot (Greenland halibut).
Greenlandic culture
As we explored the town on foot, we were astonished to see so many sled dogs. (Ilulissat has as many sled dogs as people.)
We were also surprised to see a woman wearing the Greenlandic national costume as she walked along the street. "I'm wearing it for my son's first birthday celebration," she explained. "We wear traditional dress at festivals, holidays, weddings and special occasions."
Another woman greeted us from her balcony as we walked to the Ilulissat Museum. A display inside allowed us to closely examine the brilliant multicoloured beads on the shoulder covering (nuilarmiut) of Greenlandic women's traditional dress, as well as the floral embroidery on the costume's sealskin boots.
The museum is housed in the birthplace of Knud Rasmussen (1879-1933). The polar explorer and anthropologist was the first European to cross the Northwest Passage between the Atlantic and Pacific Oceans by dogsled.
Mummies and mythological monsters
Among its engrossing displays, we discovered tupilaq – mythological Greenlandic monster figures carved from animal bones, antlers and tusks. Equally mesmerizing was an image of a six-month-old male mummy, one of eight 15th-century Inuit mummies discovered in 1972 at Qilakitsoq, a West Greenland archaeological site.
We also viewed exhibits of Greenlandic history, such as a drinking horn from the Thule ancestors of modern Inuit people, as well as models of traditional Greenland kayaks.
Leaving the building, we were delighted to see a group of local people paddling similar narrow kayaks amid the icebergs in Disko Bay.
From the deck of our ship, we observed one of the kayakers practise a Greenland roll. This lifesaving manoeuvre allows kayakers to skillfully use their small oars to resurface capsized kayaks in the freezing water.
Voyage of discovery
As we cruised north of Ilulissat, we gathered on the decks to photograph a floating parade of icebergs along Greenland's west coast. After travelling for 60 kilometres, the captain stopped the ship for an expedition landing. (The captain can cancel excursions because of weather, pack ice or lurking polar bears, but he can also arrange stops in places where ships have never visited.)
It was a great opportunity to explore the tundra. Some of us hiked to the five-kilometre-wide Eqip Sermia Glacier. Frequent explosions shattered the silence around us as chunks of ice calved off of the glacier, creating noisy splashes of water as they landed.
Expedition staff set up a scope so that passengers could scan the landscape for wildlife. Many of us focused our camera lenses on the miniature tundra plants. Crouching close to the ground, we photographed the polychromatic carpet of leaves, lichens and wildflowers. As we walked over Labrador tea plants, their woodsy scent wafted through the pollution-free air.
Learning experiences
Boredom was not an issue during our 30-hour crossing of Davis Strait between Greenland and Baffin Island. We watched documentary films about the regions we visited and attended workshops about Inuit art.
A highlight of Adventure Canada cruises is the team of marine biologists, archaeologists, ornithologists, geologists, historians, artists, musicians, photographers, botanists, authors and scientists who accompanied us. Their informative lectures and on-site commentaries enriched our excursions.
One-third of the experts on Arctic expeditions are Inuit from Greenland and Canada. They enlightened us about their way of life, both on-board and on shore. Jayson Kunnuk, one of the cultural educators on our trip, for example, captivated us with his grandfather's stories about walruses and polar bears. On the tundra, he identified wild, edible plants such as mountain sorrel and crowberries.
Meeting the locals
A cultural presentation during our visit to the Baffin Island community of Mittimatalik (Pond Inlet) offered more opportunities to learn about Inuit culture. After listening to traditional singing and storytelling, we watched an elder demonstrate the lighting of a soapstone oil lamp.
In the community hall, passengers purchased handmade sculptures, prints and other locally made crafts directly from the artists who created them.
We especially enjoyed meeting some of the settlement's 1,555 residents as we walked along the streets. One mother described how her traditional amauti (hooded parka) featured a back pouch for carrying her child. Two girls asked if they could photograph us, explaining that they were happy to have visitors.
Whales ahoy!
Leaving Mittimatalik, we cruised along Lancaster Sound (Tallurutiup Imanga) – one of Canada's newest National Marine Conservation Areas and gateway to the Northwest Passage. Passengers gathered on the decks with binoculars to look for narwhal, beluga and bowhead whales that feed in the area. We saw no whales, but watched a walrus hitching a ride on an ice floe.
A few minutes later, the captain announced: "Bowheads are all around us. I'll anchor the ship so that you can board Zodiacs."
We'll never forget our excitement as a 90-ton bowhead surfaced like a submarine and exhaled just metres from our Zodiac. "Its mouth is as large as an open single-car garage door," explained the marine biologist who accompanied us.
World's largest uninhabited island
On the northern border of Tallurutiup Imanga, 50,000-square-kilometre Devon Island abounds with wonders. At Croker Bay, curious ringed seals popped their heads out of the sea to watch us zip between awesome icebergs on Zodiacs.
Some of the powder-blue and snow-white blocks of ice towered over us. Others were as small as toy boats. Our expedition leader hauled a small bergy bit into our Zodiac. Crystal clear, it resembled a glass sculpture.
Back on the ship, he chopped it up. As the 10,000-year-old fresh-water ice cooled our drinks, trapped air bubbles made them fizz like champagne.
Bringing history to life
Devon Island also preserves remnants of human history. On-board archaeologist Latonia Hartery helped us identify collapsed Thule qarmat homes, constructed with rocks, bowhead whale skulls, jaws and ribs.
"Thule ancestors of today's Inuit first appeared about 800 years ago, spreading out across the Canadian Arctic and Greenland," she explained. "Their qarmats had semi-subterranean bases with partial stone walls and sod roofs. Thule people often covered the whalebone frames of their qarmats with layers of animal skins."
At nearby Dundas Harbour, we discovered more recent history at an abandoned 1920s Royal Canadian Mounted Police outpost. Inside, we found an old sewing machine, a Coleman oil-burning heater, metal beds, paperback books, a jar of peanut butter and rusted tins of tomatoes on the shelves.
As we viewed the small cemetery outside, we pondered the loneliness of the two RCMP officers stationed here for two years at a time. Surrounded by a white picket fence, it encloses the graves of two RCMP constables.
Beechey Island discoveries
Equally poignant are the graves of three of the 129 sailors who died during Sir John Franklin's attempt to sail through the Northwest Passage from 1845 to 1848. They passed away while overwintering at Beechey Island, just off the southwest coast of Devon Island.
From our landing spot on the uninhabited island, we trudged over gravel to the desolate burial site. Next to the three mariners' wooden grave markers is a fourth one, belonging to a crew member of the 1850 McClure Arctic Expedition − one of several British search efforts to determine the fate of Franklin's quest. Bronze plaques on the grave markers identify the men and their ages – all in their 20s and 30s.
The place – now part of the Beechey Island Sites National Historic Site of Canada – had a haunting, but sacred feel to it. Other than the crunching of our feet on the gravel, the only sounds came from the wind and occasional screeching of gulls.
We walked for two kilometres, past a few cairns and memorial monuments, to the ruins of Northumberland House. Members of the 1852 to 1854 Belcher Expedition built it as a supply depot for Franklin's crew, in case they returned to Beechey Island. Weathered boards, rusted tin cans and barrel staves are all that remain today.
Wildlife, wilderness and the unexpected
Back on the ship, we cruised west to Resolute (Qausuittuq) for our charter flight to Ottawa. The settlement of 200 people on Cornwallis Island is an aviation hub and staging point for tourism, High Arctic research and military activities.
With no vegetation, Resolute looks desolate. But it's not lifeless. "A polar bear wandered through town this morning," said the bus driver who drove us to the airport from the shore where Zodiacs transferred us from the ship. "It got into a shed and stole some frozen meat."
Whether you're visiting Greenland or the Canadian Arctic, some things are guaranteed – wildlife encounters, cultural enrichment, historical treasures, splendid scenery and unforeseen surprises.
RESOURCES
The next High Arctic Explorer cruises are July 25 to August 5, 2023 and August 5 to 16, 2023 on the Ocean Endeavour. For information or brochures, contact Adventure Canada at 1-800-363-7566 or visit www.adventurecanada.com
Story and photos: Barb & Ron Kroll publish the trip-planning website www.KrollTravel.com