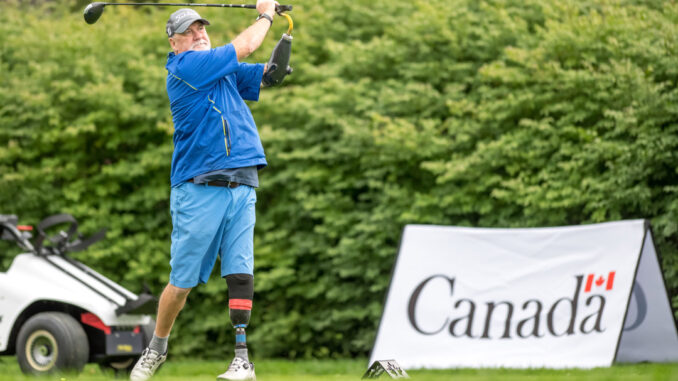 Years ago, I was the managing editor of Golf Canada magazine. To this day, one particular cover story stands out. The story was titled "Golfing Blind: The Gerry Nelson Story." The cover was completely black with only the headline visible in white-faced type. As I sat down to finally write this column after much procrastination (as is apt to happen during the dog days of summer), I thought about that cover and that story and how golf is a game for all abilities. A quote from Gerry's story, reflecting on life after he completely lost his vision in his mid-20s, resonates on how golf inspires. Gerry said: "I thought life was over. Golf was the catalyst that really got me going again." He picked up the game of golf again, which he had enjoyed as a child before he lost his vision. Gerry now encourages others to realize that life is not over if you lose your eyesight. You can still participate in activities such as golf. It's all about feel. Blind golfers rely on a coach to line them up and prepare them for the swing. He is currently in his second term as president of Blind Golf Canada, an organization which he helped create.
Nick Genovese is another blind golfer who did not let his lack of sight hinder his ability to not just enjoy golf, but to compete and win at the highest levels. In 1946, a welding accident took away his vision; by the time 1950 rolled around, he had taken up golf and was encouraging and inspiring other sightless individuals to not let their blindness stop them from still pursuing their dreams. He was the Ontario Blind Golfer's Champion 12 times from 1950 to 1974 and the Canadian Blind Golfer's Champion six times from 1952 to 1967. This past summer, Nick was inducted posthumously into the Ontario Golf Hall of Fame for his achievements and impact on the game.
Gerry and Nick's stories are just two of countless examples from coast to coast. Golf is a sport that attracts ─ and is open ─ to all abilities. There are world championships for deaf golfers, blind golfers and those with other physical or intellectual impairments. In September 2021, Golf Canada held the inaugural Canadian All Abilities Championship at Humber Valley Golf Course in Toronto. The national golf championship was a 36-hole competition that featured 30 players from across Canada with neurological, intellectual, sensory and physical impairments. The new tournament is one more step in the game's evolution and recent push to create a more inclusive and respectful environment for the sport.
From the time you picked up your last copy of CSANews until this latest issue, there have been the Canadian Deaf Golf Championships in Acheson Manitoba, the Summer Deaflympics played in Caxias do Sul, Brazil and, closer to home, the inaugural U.S. Adaptive Open ─ a national championship for golfers with physical, visual and intellectual impairments that saw 96 participants. Competitors' ages ranged from 15 to 80 and they played from four different sets of tees. USGA CEO Mike Whan was all smiles and full of pride following the event, telling The Golf Channel: "This is the seeds of something different."
The seeds of adaptive golf are being sown everywhere. Paraplegic golfers are yet another example of those with what was once thought of as a disability that prevented them from participating in golf but now, thanks to modified golf carts, they are also participating in greater numbers. At that recent inaugural U.S. Adaptive Open in Pinehurst, North Carolina, there were seven seated players who competed. All have various versions of a modified cart that allows them to drive forward and then swivel the seat to the side to line up and hit a shot. Seeing one of these carts drive on the green so that the player can putt might make you do a double take the first time you witness it, and perhaps think that it's not proper etiquette. But according to SoloRider ─ the company that makes the majority of adaptive carts ─ the PSI from a cart's tires is no more than from a golfer's footprints.
Whether someone is a paraplegic, an amputee or has an intellectual impairment such as autism or Down Syndrome, the message is the same: none of these are reasons to not golf. Rather, the message that came across for me as I was researching and writing this column is this: golf is for all. And, that is a good thing. This is a message which you can help to spread and share the next time you play. Do your part to rewrite the narrative of golf that it is a game just for a select group of society. Share these stories which I've passed on and learn about others. This will help grow the game for future generations and make the sport more and more welcoming so that players of all abilities will consider taking up golf.
Yes, golf is a hard game. It frustrates you and sometimes feels as if both Mother Nature and even the course are against you. But, reading these stories has inspired me to take it easy and have more fun the next time I tee it up. Rather than curse how hard this grand old game is during my next round, or wonder why I play this four-letter-word game, I'll get my motivation and inspiration by thinking about Gerry, Nick and all of those with special abilities who play and compete. Golf is about inclusion ─ letting everybody in who wants to play, not shutting people out.
By David McPherson