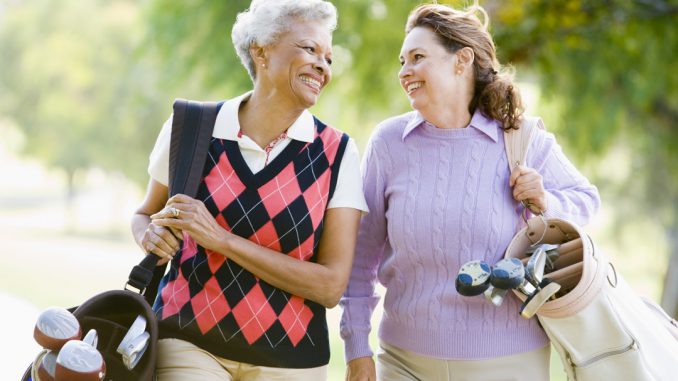 As I sat down to write this column, spring had sprung. March marched on and Mother Nature gave us Ontarians a taste of warm weather. As the grass gradually came out of dormancy, and the robins returned with their early-morning melodies, for a brief moment, everyone forgot about the pandemic. Spring is the season of renewal. This year, more than any in recent memory, renewal is something we all need. And hope is in the air, slowly replacing those nasty germs that cause the COVID-19 virus. Vaccines are being administered and rolled out across the country and, by the time you read this, you will hopefully have received at least your first shot.
Spring also brings a return to golf. As I've written previously, golf was one of the pandemic's silver linings. It is a sport with social distancing built in and it offers many health benefits − both physical and mental. In 2020, golf exploded. Many newbies picked up a club for the first time. According to the National Golf Foundation, the number of newcomers who teed it up for the first time hit a record three million. Many others, with extra time and looking to get outdoors, played more rounds than ever. Getting a tee time at courses was more difficult than securing a reservation at a four-star restaurant. Toronto's municipal courses saw a 95 per cent booking capacity for the season and, nationally, golf rounds increased by more than 19 per cent year over year. This upward trend shows no signs of slowing down in 2021.
As I pondered what to write about for this issue, my wife suggested that I shine a light on women. What a great idea. Historically, golf has been a sport and pastime dominated by men. I recall when I was a junior spending my summers at Westmount Golf & Country Club, there were very few girls my age who played. Why? I don't know, but the good news is that the times they are a changin'. Last summer, whenever I looked out on the range at the club where I work, I saw many girls practising. The proof is also in the stats such as these from south of the border: the number of female golfers (adult and junior) rose by approximately 450,000 in 2020, with 24 per cent of on-course golfers in the U.S. being women.[1]
Closer to home, did you know that the Ladies Golf Club, just north of Toronto, is the only remaining private club in North America established by women for women? It was founded in 1924 and remains a vibrant place for women to gather, play and have fun together today. I bet that you were not aware that Canada's only member of the World Golf Hall of Fame is a woman?[2] Marlene Stewart Streit is a legend when it comes to amateur golf, not just in Canada. The 87-year-old, who was born in Cereal, Alberta, is the only player (male or female) to have won the Canadian, U.S., British and Australian Amateur Championships. She is an inspiration to many of Canada's top young female amateur golfers. Here is just a snapshot of her incredible record: 11 Canadian Ladies Open Amateur Championships, nine Canadian Ladies Close Amateur Championships, and four Canadian Ladies Senior Amateur Championships. Stewart Streit also won the Lou Marsh Award (for Canada's outstanding athlete) twice (1951, 1956). One of those young amateurs who was surely inspired by Streit's legacy is Brooke Henderson. Her incredible success on the LPGA Tour in recent years, just like when Mike Weir won the Masters in 2003, has increased interest in the sport among a new generation of girls. The 23-year-old Henderson, who hails from Smiths Falls, Ont., has already won nine professional events, including a major (the 2016 KPMG Women's PGA Championship) and has an astounding 55 career Top 10s on the LPGA Tour.
Progress for sure, but there is still a way to go when it comes to giving women golfers equal opportunities to their male counterparts. In recent years, new programs are addressing these gaps. One such initiative is Women's Golf Day (WGD), which Elisa Gaudet started in 2016. Mark your calendars for this annual celebration, which occurs this year on June 21. This four-hour experience is a global event that gives both first-time players and avid veterans a chance to engage with each other and fall in love with the sport. More than 900 venues in 56 countries registered their location and held WGD events over the past five years. The event is designed to create an environment in which women and girls can build a foundation in golf by establishing a network of friends and golf professionals that will ultimately support their continuation in the game. The WGD four-hour format offers attendees first the choice between two hours of lessons or playing nine holes of golf. In the second two hours, all of the participants come together for a social activity.
In May 2018, the R&A (the governing body of golf in the U.K.) launched a Women in Golf Charter, which aimed to inspire commitment from the global golf industry to develop a more inclusive culture. The charter is designed to encourage actions that enable more women and girls at every level to succeed and maximize their potential within the golf industry. More than 100 organizations have given their commitment to the Charter (including Golf Canada), pledging to build on current initiatives and develop new projects to increase the number of women, girls and families playing golf.
Inspired by this charter, Golf Canada and the PGA of Canada recently collaborated to create a Women in Coaching Program. Each participant receives in-depth career development support focused on four main areas: sports science and coaching education, hands-on training experiences with coaches and top players, project work and individualized learning plans. Recipients are awarded a $2,500 bursary to help offset costs for the hands-on training portion of the program.
Women reading this, who have never swung a club, why not make this the year to tee it up at your local. You are never too old to learn a new skill [Hey, I gave my father a guitar for his 70th birthday]. Until next issue, wishing you health, happiness and lots of golf.
By David McPherson