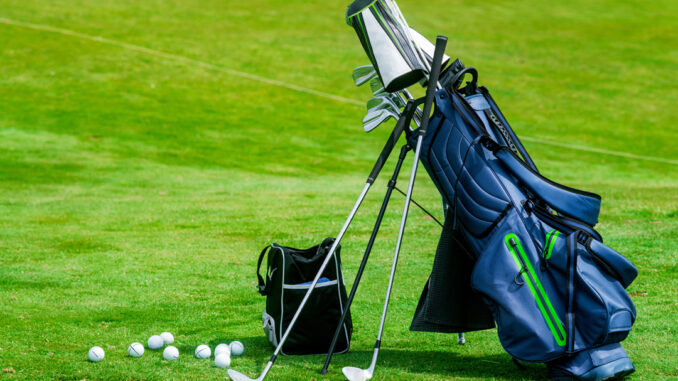 To every season, there is a reason. For every reason, there is a season. Ask my son for one reason why golf season exists and I get nothing. Instead, my teenager offers a diatribe based on a George Carlin skit he recently watched that explains the stupidity of golf. If you are reading this column, you, like me, do not agree. Not only is there a reason for golf, but also the season ─ in most parts of this country ─ is short. Ok, I admit I'm just rambling now and trying to find a poetic way to start this column and also pad my word count. Turns of phrase aside, and getting back to my point (I promise it is coming), despite a gorgeous fall in Southwestern Ontario where I live, golf season passed me by once again faster than a bullet train.
Back on April 1, I pledged to play a lot of golf this season. This was the year, I said, that I would get back to playing at least 15 or more rounds. I would play courses I had never played before. I would arrange games with friends I had not seen in a while. Wishful thinking. It was an April Fools' joke on me. The season whizzed by and I only squeezed in five rounds. Mind you, those rounds were at some of the top courses in this country, so I have no complaints. But, my point is this, and finally I come to this column's topic: the contents of my golf bag. You see, without playing frequently, my bag is not filled with as many treasures as in years past.
At the end of each golf season, my golf bag is usually like a cabinet of curiosities. I'm excited to see what wonders and oddities surprise me when I dig deep into each of the myriad pockets before putting the bag into hibernation for winter. Maybe it's a scorecard half filled out for a round where I started keeping score for the first few holes before deciding I would enjoy the game more without putting pencil to paper after each hole; instead, I remember enjoying the good shots when they came and taking the bad shots with grace, rather than a string of expletives aimed at the course.
My annual fall ritual, after I've come back from the golf course – knowing that this is probably my final round of the year – is to give my clubs a good scrub, so they are ready for action first thing come spring. I use a tee to clean out the grooves of my irons and then wash each club with hot soapy water. With the clubs shiny and back in the bag, it's now time for the real fun: opening up and cleaning out each of the pockets in my bag to see what stories these items tell.
Each compartment of your bag is like a dusty box in your basement filled with forgotten wonders and memories from seasons past. Maybe it's a particular logoed ball you found one round, buried in the fescue at your favourite course. Of course, seeing this ball makes you remember that on that same hole, you did not find your tee shot but came out even in the transaction with Mother Nature. Dig deeper, what do you find? Maybe it's simply some loose change (yes, some of us still pay for things with cash) buried underneath all of those balls… left over and forgotten after buying a sandwich or cold beverage during your round. Open another pocket and you find a few broken tees you put back into your bag for some unknown reason, rather than pitching them in the garbage. In a side pocket, you find a scorecard that is filled out. Read it and I remember the friends I played with, the conversations we had and, by reviewing the notes I made on the course's design and some of my favourite holes, I'm transported back to that summer's day and filled with gratitude. Before tucking it back into my bag for safekeeping, I notice a birdie on a par 3; immediately, I recall that unbelievable 35-foot downhill putt that curled in and brought a smile to my face and to the faces of my playing partners.
Unzip another pocket and behold some crumpled receipts: green fees, lunch on the course or sunscreen bought in the pro shop because, of course, you forgot this essential item. When I used to go on media trips, these receipts were plentiful. Pulling them out at the end of the season reminded me of the places golf had taken me that year and of the incredible meals I had experienced on these travels – such as a lobster roll in Inverness at Cabot Links or a juicy cheeseburger savoured sitting on the patio at TPC Sawgrass after a morning playing this course where the PGA Tour's Player's Championship is held. Alas, what I find this year are just a few lonely pieces of paper for some coffees and other sundries. Still, they remind me of those wonderful rounds I was lucky to play at TPC Toronto at Osprey Valley and St. George's Golf & Country Club.
CLEAN YOUR HOUSE
After you finish cleaning your clubs, emptying your bag and storing it for the winter ─ and/or until you take your clubs with you when you head for your winter away from home ─ it's time to make sure that your body and mind are clean and in tip-top shape for next season. Just like cleaning out your golf bag and getting it ready for your first round in the spring, winter is also a good time to get into playing shape, so whenever you put a tee in the ground again, you are ready.
Make sure to take five to 15 minutes a day this winter to stay in golf shape. Practise some putts on the carpet to work on your pendulum technique and you'll be ready to make more birdies and pars in 2023.
Why not try some yoga to help your balance and stability. These exercises are good for your limbs; they keep you limber and ready and warmed up when you use these muscles to swing a club again. The breathing exercises involved in many types of yoga are also good for the mind ─ they help you focus, relax and get into that Zen golf state where, like the mantra espoused by Chevy Chase's character Ty Webb in the 1980 slapstick Caddyshack, you can "Be the Ball!"
Do not forget your core. Do a series of planks every day or even three times a week and you will notice a big difference when you play your next round, guaranteed. Start by holding the position for 30 seconds and work your way up to 45 seconds or even one minute, as you get stronger. Most of the power which you generate in your golf swing, believe it or not, comes from these muscles. Flexibility is also key to staying in golf shape ─ especially as we age. Daily stretching is important to maintain your flexibility. Here's a simple exercise you can do first thing in the morning before rising from bed: Lie on your back and pull one knee to your chest with the opposite leg extended. Repeat on both sides several times.
Enjoy your time this winter wherever you hang your hat: in Florida, Arizona or other warmer climes south. Keep in mental and physical shape with a daily exercise routine. And, if you are putting your bag into hibernation for a while, don't forget to dig deep into those pockets; you never know what treasures you might uncover that will bring back memories of a round and make you smile at all of the joys golf brought you last season. Sorry my son, and Mr. Carlin, golf is far from dumb. Don't ever "foreget" it!
By David McPherson