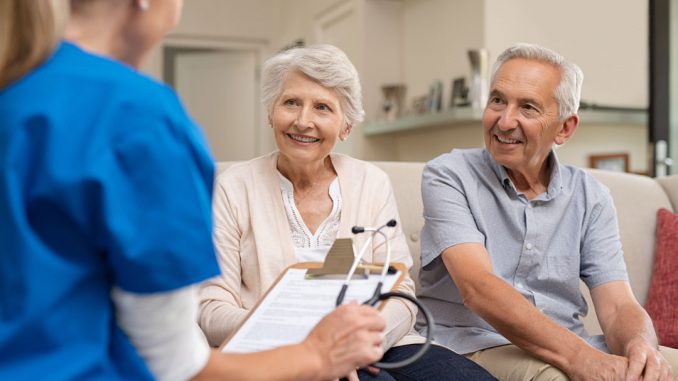 Following my university and post-graduate training in family medicine in the mid 60s, I finally achieved my goal of becoming a family physician and establishing my practice in a small community where a general practitioner was needed. It was a time at which there was no significant shortage of family doctors − especially in larger communities − and I wanted to be where there was a need. As the only doctor for 40 miles, my practice was a 24-hour tour of duty, especially in the summer when thousands of tourists flooded the lake area. Appointments were encouraged but, if someone came to the office because of an urgent need, they were seen. The office served as the regional emergency room site; the more serious patients were stabilized and sent on to the hospital 40 miles away. Between my efforts and those of my wife − an experienced registered nurse − we covered a good part of the needs of the local area, including all of those summer visitors.
I dispensed my own drugs, since there was no local pharmacy. All children were closely monitored for their necessary vaccinations. Regular patients with chronic medical conditions were always booked for followup visits. Annual physical examinations were routinely booked for many adults, especially seniors, at which time I would review their immunization status and order any screening tests according to my findings and their particular medical conditions. I made many house calls to a small number of housebound invalid patients and to families with small children who had a feverish sick child in bed at home.
After several years in that solo practice, another young practitioner took over. I established my new practice in the nearby city, where I joined four other young GPs and we built a modern family practice clinic. Although I was welcomed to the city by other doctors, I had not been encouraged in any way to make the move as it was perceived by many that there were already enough family doctors. Throughout my 15 years at that practice I, along with my partners, always accepted new patients in need of a family doctor. Not only were we maintaining our practices at reasonable levels, family doctors felt a moral responsibility to be available for residents who had no family physician… including those who had recently moved to the area. All family doctors were required (as part of their hospital privileges) to serve regular hours in the emergency department of the hospital.
There were no walk-in clinics and any phone advice to patients was an unpaid service. When we signed out for the day or weekend, one of us was always on call for all of our patients' needs and, if necessary, would see them in the emergency room. On weekends, one of us would be responsible for the Saturday morning walk-in services at our clinic for any necessary medical attention.
If a specialist was required, a personal phone call was made to the specialist in cases where the family doctor felt that there was some urgency, and the response was usually immediate referral. In others, a written request for consultation resulted in a consultation within two to three weeks.
Medicine has evolved over the past 60 years to a point at which the average life expectancy for Canadians has increased from age 71 to age 82. For those who have reached their 60s and are in good health, the life expectancy is beyond that. Much of this progress has been due to the advances in public health measures, including availability of numerous vaccines to prevent illnesses such as polio, measles, German measles, whooping cough, mumps, flu and shingles. The advances in laboratory testing, pharmacotherapy, imaging technology such as CAT scan, MRI and PET scan, and medical and surgical treatments have played a major role.
In spite of these documented increases in the average life expectancy, the perception of the quality of care at the primary level has deteriorated for many. In Canada, statistics from Stats Canada reveal that there are now 4.5 million Canadians without a family doctor. For those individuals and families, their only access to primary medical care is through nurse practitioners, walk-in clinics or emergency rooms. While this may serve urgent needs satisfactorily, long-term preventive health measures, continuity of care, routine monitoring of chronic conditions, annual health assessments, updates on immunization and other benefits of long-term, single-source family doctor care are lacking. Patients are scrambling to get on waiting lists for a family doctor and trying every other way of signing up. Family doctors are setting limits on the number of patients for whom they want to be responsible and doctors are working fewer hours than decades ago, including the many female practitioners − most of whom have children to care for which necessarily limits their hours of practice. In Canada, two-thirds of family physicians under the age of 35 are female and more than half of all graduating physicians are female.
Payment models available to family doctors have probably changed some services which we used to expect. For many years, the majority of family physicians were paid on a "fee for service" basis, i.e. they were paid according to a negotiated fee schedule listing every medical and surgical service, including family doctor office visits. Many payment models now provided by provincial governments pay a "capitation fee" per month for overall care of individuals, regardless of whether or not services are rendered. Extra payments are made for certain procedures, such as assistance at surgical operations. In some provinces, limits are placed on the available opportunities for family doctors to establish practices under these models. Some critics believe that the capitation payment method reduces the incentive to see patients regularly, while others believe that the fee-for-service method stimulates overuse of services.
In response to the shortages, many communities are offering financial and other incentives in an attempt to woo physicians to their communities, but the shortage in available candidates just perpetuates the challenges of attracting new family doctors. But why are there too few family doctors, when statistics show that we are now training more physicians per capita than ever before? About half of graduating doctors become family physicians, the other half become specialists, researchers, educators and administrators. Three-quarters are graduates of a Canadian medical school, while almost one-quarter are from foreign medical schools. A report by the Canadian Institute of Health Information in 2019 stated that the growth in medical graduates was outpacing the growth of the population of Canada and that the average gross income of physicians in Canada was $345,000 before office costs and taxes. In spite of those statistics, the shortage of family doctors is unacceptable. Governments are being pressured to take action and Ontario Premier Doug Ford has just announced a significant increase in funding for more medical student positions, more residency positions for post-graduate training and the future establishment of another medical school in the province.
In response to the shortage of available family doctors, various services have been made available. Nurse practitioners are now licensed to diagnose and treat certain common conditions and work on site in a doctor's office, or in more remote communities where no physician is available. Nurses, registered nursing assistants, dieticians and mental health personnel are taking on more responsibilities in the doctor's office in terms of providing primary health care. During the pandemic, some provinces initiated government-paid fees for telephone consultations in lieu of office visits. This has provided a needed service to avoid unnecessary office visits but, in some cases, will undoubtedly lead to over-usage, misdiagnosis and mistreatment. A number of commercial online physician consultation businesses have been established offering telephone and video consultations to the public by physicians, paid by government health plans if available. Otherwise, if not government insured, payment is made by credit card.
It has become clear to many that there is an even-greater need for us to personally manage our health care. This has been accentuated due to the restrictions placed on health services as a result of Covid. You need to keep up with your immunization recommendations, including your annual flu shot, any recommended Covid boosters, shingles vaccine and pneumococcal vaccinations. Although the annual complete physical examination is no longer recommended, seniors especially should make an appointment for their annual health assessment when more time can be focused on symptoms and any chronic health conditions. Recommended screenings such as colonoscopy, mammogram, pap test and followup imaging in cases of previous cancers are also your responsibility in knowing how often such evaluations are recommended. Keep a record of all of your medications in your purse or wallet in case you have to go to emergency or a walk-in clinic. If you develop new or worsening symptoms, make sure that you ask for an early office appointment. Become aware of your medications and their possible side-effects. Research your symptoms or known medical conditions on the internet and document your symptoms and concerns before your appointment to get the most out of your office consultation. Use the internet to access your own lab and imaging results, making sure that you have been given followup for any abnormal results. If your internet skills are limited, ask a family member or close friend to help.
For those who do not have a family doctor, keep up your attempts to find one. In addition to waiting lists, ask a close family relative or friend to ask their doctor, find out when a new doctor is establishing a family practice and don't hesitate to keep asking a receptionist at a doctor's office if you can become a patient there. Whether you do or don't have a family doctor, if sudden injury or illness arises, go to the nearest emergency department without delay. Do not postpone your visit in fear of Covid. Such urgent and emergency treatment is always available to you and your condition will not be delayed in being diagnosed and treated.
by Robert MacMillan MD