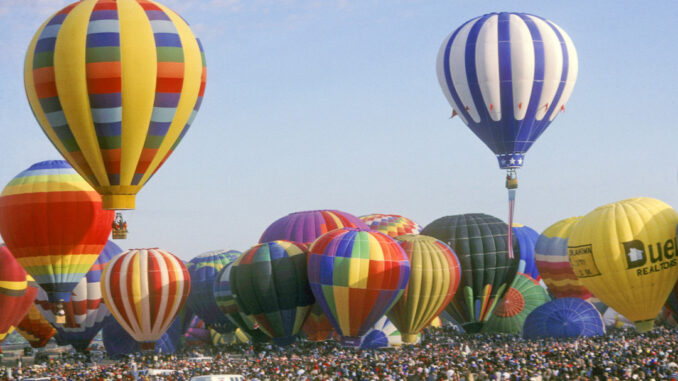 Excite your senses with the sights, sounds, colours, scents and tastes of international special events.
Dazzling fireworks. Glittering costumes. Crowd-pleasing spectacles. There's nothing like a festival to introduce you to the pulse and personality of a destination.
Ranging from obscure to world-renowned, no two festivals are alike. You'll find festivals for every interest and season around the world and in your own vicinity. Here are some of our favourites:
Albuquerque International Balloon Fiesta
Few spectacles are more memorable than the sight of 500 multicoloured hot air balloons rising from a grassy launch site the size of 56 football fields. You can observe this mass ascension daily during Albuquerque, New Mexico's International Balloon Fiesta, held for nine days every October.
It's no wonder that last year's event attracted more than 828,000 spectators. But the festival offers much more than balloons floating slowly up and away.
The 2023 fiesta (the 51st ) features hot air balloon competitions, drone light shows choreographed to music, skydiving, concerts and twilight balloon glows (when pilots illuminate tethered inflated balloons with propane burners). Each day ends with impressive fireworks.
You can even book a flight. As crew members unfurl the 25-metre‑long envelope and use a fan to inflate it with hot air from a propane burner, vivid splashes of rip‑stop nylon billow out like a butterfly emerging from its cocoon.
Within minutes, the balloon is straining at its ropes to lift off. You scramble into the gondola with the pilot and other passengers. With a whoosh of the propane burner, you're travelling with the wind, waving to pilots in other airborne balloons.
It's an unforgettable experience. balloonfiesta.com
Patron Saint Festas
Noisy fireworks, ringing church bells and brass bands characterize more than 100 annual Maltese festas on patron saint feast days. These traditional village feasts began four centuries ago.
Marching musicians follow parishioners carrying flags and the saint's statue through the streets. People watch from balconies decorated with lights, banners and paintings of the saint. Reaching into enormous bags, they pull out armfuls of hand‑cut white paper ribbons to scatter over the procession.
The confetti strips cover spectators' heads, drape trumpeters and drummers and accumulate knee-deep in the narrow streets. Children are ecstatic, throwing gobs of paper at each other in the closest substitute Malta will ever have to a snowball fight.
Deafening fireworks reverberate from buildings as the statue enters the church. In friendly inter‑village rivalry, the success of a festa is determined by the quality, quantity and decibel-level of the fireworks.
maltainfoguide.com/malta-village-feasts.html
Calgary Stampede
Hundreds of rodeos punctuate calendars of events across North America. A parade of marching bands, horseback riders and chuckwagons kicks off Canada's largest rodeo – the Calgary Stampede – held annually for 10 days in July.
Spectators fill the stadium to watch rodeo events every afternoon. Chutes burst open. Bucking broncs cannonball out, bouncing and jolting their riders. Cowboys and horses work together to rope calves and race around barrels. Competition is intense for $1.85 million in prizes.
But the stampede is much more than a Western festival. You'll enjoy agricultural competitions, midway rides, games and food, powwows, free pancake breakfasts, musical performances on numerous stages and nightly fireworks.
It's no surprise that the Calgary Stampede is called "The Greatest Outdoor Show on Earth." calgarystampede.com
Beaches International Jazz Festival
If you love music, don't miss one of Canada's largest free jazz festivals, which attracts nearly one million attendees during its month-long span. Held in Toronto in July, the Beaches International Jazz Festival showcases both local talent and international performers.
In addition to jazz, you'll hear boogie-woogie, blues, Dixieland, hip-hop and soul music on outdoor stages in several parks, as well as along Queen Street East during StreetFest. During the Salsa on the Beach weekend, you can dance to Latin melodies and enjoy food trucks and a beer garden. beachesjazz.com
Oktoberfest
A parade of ox-drawn beer wagons. Seventeen massive beer tents (and 21 small ones) filled with imbibers and Bavarian brass bands. Amazingly strong waitresses gripping six, litre-sized mugs of beer at one time. Souvenir beer steins.
The world's largest folk festival draws six million visitors annually to Munich, Germany. First held in 1810, Oktoberfest runs from the first Saturday after September 15 until the first Sunday in October. Admission to the grounds and tents is free.
Festivalgoers can buy traditional costumes – women's dirndls and men's lederhosen – online and in local stores, to add to the fun. oktoberfest.de/en
Puck Fair
The crowning of a wild male goat (puck) highlights Ireland's oldest festival, held annually on August 10, 11 and 12 in Killorglin.
Pipers and Celtic dancers accompany a float carrying a billy goat from the surrounding mountains to a weatherproof pen. Men hoist the pen – bedded with straw and stocked with water and food – to the top of a three-tiered platform in Killorglin's main square.
A King Puck mascot – wearing a goat costume – poses for photos with people in the crowded streets. Buskers, midway rides and livestock fairs entertain locals and visitors. Hot dogs and ice cream tempt appetites. Inside pubs, musicians gather around small tables, playing guitars, accordions and fiddles.
On the final day, King Puck descends from his elevated throne. After a vet confirms that he's healthy, a marching band accompanies him back to the mountains. Fireworks light up the sky at midnight. puckfair.ie
Crop Over
Originally a celebration of the end of the sugar cane harvest in Barbados, this annual summer festival draws thousands of locals and emigrated Bajans who return home to party.
Participants enjoy traditional foods and drinks, steel bands, calypso music competitions and costume parades.
Excitement reaches a crescendo during the Grand Kadooment on the first Monday in August – a national holiday. Wearing glittering makeup and costumes decorated with colourful sequins, feathers and chiffon, thousands of revellers wave their arms in the air and dance from the National Stadium through the streets to the pulsating rhythm of steel bands.
Islanders welcome visitors to join their celebrations. But rest up before going, because partying leaves little time for sleep. ncf.bb/crop-over
Toronto Caribbean Carnival
Canadians don't have to travel to Barbados to experience the music, culture and costumes of Crop Over. In 2023, North America's largest outdoor street festival celebrated its 56th year in Toronto.
The month-long festival draws nearly two million people to the Grand Parade alone. Held on the first Saturday in August, it's a breathtaking kaleidoscope of sparkling costumes and music.
You can join one of several bands of parading merrymakers by buying a costume on its website. torontocarnival.ca
Thimphu Tshechu
Tshechus are multi-day Buddhist religious festivals held around dzongs (fortress monasteries). Thimphu Tshechu, the most famous, takes place in Bhutan's capital every September or October (depending on the lunar calendar).
Monk dancers wear fearsome masks to remind spectators of the need for vigilance against demons. Their dances depict gods that people may encounter between death and rebirth.
Horns, drums, chanting and clashing cymbals accompany the masked dancers, as they twirl and leap in Tashichho Dzong's courtyard, symbolically stomping out evil spirits with exorcism rituals.
Equally enticing to watch are the monks and thousands of spectators – garbed in colourful national costumes – who travel here to observe the event, eat, drink and socialize. Visitors are welcome to join them. bhutan.travel
Semana Santa
Once you've experienced Semana Santa (Holy Week) prior to Easter in Seville, Spain, you'll never forget it. Processions of penitents wearing medieval period robes and conical hoods parade through the streets, carrying crosses and immense candles.
Drums beat incessantly as muscular men shoulder hefty, century-old floats bearing statues depicting the Passion of Christ. Crowds fill the streets during the day and night as nearly 60 processions travel to the cathedral.
spain.info/en/calendar/easter-week-sevilla
April Fair
In vivid contrast to the solemn Semana Santa, Seville's April Fair is pure joy. During the six-day festival, more than one million people gather in small tents and on the streets to eat, sing, dance and meet friends.
Women, girls and babies wear frilly flamenco dresses and flowers in their hair. Men and boys wear traditional gaucho (Spanish cowboy) outfits with bolero hats. Both ride horses and festive, horse-drawn carriages.
Spectacular fireworks end the celebrations. spain.info/en/calendar/april-fair/
Shinto Feast Days
Throughout the year, visitors to Japan can attend Shinto shrine festivals, celebrating events as diverse as the coming of spring and the rice harvest. More than 80% of the population practises the Shinto religion.
Fushimi Inari Taisha in Kyoto is the most famous of the more than 32,000 Shinto shrines in Japan. Visitors are welcome 24/7 and entrance is free. You'll find festival dates and descriptions on its website.
It's fascinating to witness white-robed Shinto priests waving wands with paper streamers during purification rites and see shrine-maidens carrying offerings to Inari, the deity of rice, agriculture and prosperity.
The rituals performed by worshippers are equally captivating. After making monetary offerings, they bow, ring bells and clap to draw the deity's attention, before praying silently at candle-illuminated altars. You'll also see Shinto practitioners seeking blessings and good fortune by writing their requests on small wooden plaques. inari.jp/en
Day of the Dead
You'd think that a festival memorializing departed souls would be sombre, but Mexicans pay homage to deceased loved ones with decorations, special foods and street fairs on November 2 (All Souls' Day). Festivities also take place on October 31 (Young Souls' Day) and November 1 (All Saints' Day).
These observances began in pre-Hispanic Mexico with indigenous beliefs that the souls of the deceased return annually to visit living relatives and eat and drink with them.
Families honour their ancestors both at home and at gravesite altars. Skulls and skeletons – often seen in Aztec art – decorate stores and homes. Mexican children exchange candy skulls with friends.
Traditionally, families share pan de muerto (bread of the dead). Made with sugar, butter, eggs, flour, yeast, anise and orange peel, it's decorated with strips of dough simulating bones and teardrops. visitmexico.com
Festival Gourmet International
If you believe that Mexican food is just fajitas, burritos and tacos, Festival Gourmet International will change your mind. Every November, Puerto Vallarta, Riviera Nayarit and Tepic host this annual 10-day culinary event.
The region's best restaurants and hotels feature dine-around dinners, cocktail parties and gourmet buffets. Progressive dinners with paired wines include transportation between restaurants for each course.
During wine tastings and winemakers' nights, participants discover that Mexico produces surprisingly good wines.
Mexican and international chefs from Europe, Canada and South America conduct cooking demonstrations. Tickets include recipes, culinary secrets and mouth-watering meals. festivalgourmet.com.mx
Snow and Ice Sculpture Festivals
Crowd-pleasing spectacles abound even when temperatures plummet. Sapporo (Japan's Snow Festival) and Breckenridge (Colorado's International Snow Sculpture Championships) are only two of the many snow and ice sculpture festivals that entice fun-seekers every winter.
You can watch competing national and international sculptors carve blocks of ice and snow into beautiful and whimsical masterpieces, based on annual themes. After admiring the intricate works of art – often illuminated with colourful lights – stop at the ice bar for drinks served in ice glasses. snowfes.com/en
gobreck.com/event/international-snow-sculpture-championships
Did these festivals arouse your interest? The next time you're planning a trip, take a few minutes to check the destination's calendar of events.
You'll be happy that you did.
Story and photos by Barb & Ron Kroll
Barb & Ron Kroll publish the trip-planning website www.KrollTravel.com