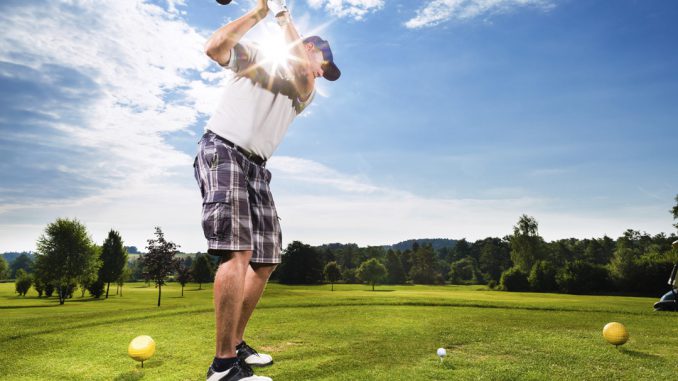 As the last page of the 2020 calendar turns, we leave the pandemic of 2020 and enter a new year. We long not for a winter of discontent, but for a spring that arrives with eternal hope for a vaccine, an end to the coronavirus and a more normal golf season.
In the interim, take time to find gratitude and give thanks for the silver linings which COVID-19 brought. Golf is one of these gifts. Unlike some sectors of the economy − such as the live music industry − golf was one of the first allowed to reopen. Built into the game is the fact that it's played outdoors and features an inherent ability to social distance. Golf proved to be the perfect pastime to still see friends, socialize and get exercise, in a season when many activities were cancelled or temporarily put on hold. The private club which I work at recorded a tee sheet that had never been busier. Tee times were booked solid from 7 a.m. to 7 p.m. From St. John's to Victoria, this trend played out. Some clubs saw as much as a 25 per cent increase in overall rounds played. Booking a tee time for some was as hard as scoring concert tickets to the must-see show in a normal year. The other good news: many newcomers tried golf for the first time.
For many snowbirds who, by the time the last leaves change colours, are usually packing their bags and their clubs and dreaming of warmer climes – their annual sojourn south (or west) did not happen. Many still felt fear of travelling, and rightly so, until a vaccine is discovered and proves effective at killing this virus. So, what happened? Until the first snowfall − and with some courses being closed later than normal − people donned their woollies and toques and squeezed in every last game that they could.
Alas, as you read this, courses are closed in most of the country, and the question becomes what now? If you can't golf this winter, how can you stay in golf shape and remain active until the spring? The key is to realize all of the health benefits of golf and work on maintaining these during the coming indoor months.
An international research study backed by the R&A released this past fall found new evidence to suggest that golf can provide significant health benefits to older participants in the form of improved muscle strength and balance. Professor Maria Stokes (University of Southampton) and Dr. George Salem (University of Southern California) carried out the Strength and Balance Study with two sample groups over two years. The study indicated that older golfers can develop and maintain muscular strength, power, endurance, balance, flexibility and walking performance on the course.
"Our findings suggest that golf should be considered when prescribing exercise for older adults because it appears to be safe, feasible and an adherent form of exercise for a better, healthier quality of life," said Dr. Salem.
How can you maintain these benefits so that you are ready to hit the tee again in the spring? With exercise, of course. Here are some suggested training tips to keep developing your flexibility, along with your mental and physical strength this winter.
THESE HIPS DON'T LIE
As you age, flexibility decreases, often due to a more sedentary lifestyle and reduced use of your hip muscles. For senior golfers, a lack of hip flexibility is the leading cause of lost power and accuracy. It's important that over the winter, you don't lose the range of motion which you gained golfing over the last six months. Here are five hip exercises to help prevent stiffness and keep your muscles limber come spring.
Hip Loaders Three Ways
There are three versions of this exercise. Each will improve your range of motion in different ways. The first works your hips forwards and backwards; the second works them side-to-side; and the final variation rotates them. All of these exercises are aimed at stimulating the motion which you use in your golf swing. The only equipment that you need is a chair with arms.
Front and Back Hip Loader
Follow these six steps:
Place a sturdy chair in front of you;
Put your right foot on the chair;
Keeping your back and shoulders straight, stretch both hands towards your right foot as far as you find comfortable;
Return to your original position;
Perform two sets of 8-12 repetitions; then
Switch legs and repeat.
Side-to-side Hip Loader
Follow these five steps:
Put your right foot on the chair;
Raise your right arm and reach over to bend your torso over your hip on the left side;
Return to your original position;
Perform two sets of 8-12 repetitions; then
Switch legs and repeat in the opposite direction.
Rotational Hip Loader
Follow these five steps:
Put your right foot on the chair;
Rotate your torso and reach around your right side as far as is comfortable;
Return to your original position;
Perform two sets of 8-12 repetitions; then
Switch legs and repeat in the opposite direction.
Sitting Hip Stretch I: Sit in your favourite chair but, again, make sure that it has arms. Keep your knees and hips facing forward and lengthen your spine. Place your left hand on your right knee and slowly twist to the right, using your right hand on the arm for leverage. Hold this twist for a few seconds, come back through centre and repeat on the left side.

Sitting Hip Stretch II: Still sitting in the chair, bring your right ankle up to rest on top of your left knee. Use your right hand to gently press down on your right knee, so that it is parallel to the floor. Be sure to let up if you feel any pain or strain. Hold for 10 seconds and repeat on the left side.
DON'T BACK DOWN
Your back is another body part that tends to break down with age. Doing these back-specific exercises are great warm-ups before you play a round, but it's also a great daily habit to get into this winter to strengthen your spine, lower back and butt − all things that will also benefit your golf game.
The Bridge
To strengthen your back, one of the best stretches which you can do anywhere at home throughout the winter is the bridge. Lie down on your back, on a firm surface. Bend your knees and keep your feet flat on the ground. Now, push through your feet to lift your pelvis off the ground. Hold this for 10 seconds before returning to the ground. Complete 15-20 reps of this exercise.
Toe Touches
This simple exercise, if done repeatedly throughout the winter, will stretch your back and hamstrings. Stand upright with your feet together. Reach your arms above your head and lock your hands. Now, slowly bring your arms down in front of you. Continue to move your arms down, reaching towards your toes as far as you can without feeling any discomfort. Hold this pose for approximately 10 seconds, making sure to not overexert yourself. Perform two sets of eight to 10 repetitions.
Back Extensions
This exercise strengthens your back, increases your ability to co-ordinate movement through your lower back and improves your posture, which helps to prevent back injuries. Start by lying face down on the floor with your hands on the floor under your face. Now, slowly bring your head up and arch your back. Next, push up to your elbows. Return to the starting position. Perform two sets of eight to 10 repetitions.
These are just a few suggestions. Do a Google search on strength building or exercises for senior golfers, and you'll discover endless YouTube videos. Take your pick and get to work.
If you can't wait until your course opens and just need a taste of that feeling of swinging a club, consider buying a golf simulator. Forget the kids' inheritance, live for the now. That's another lesson which COVID-19 has reminded us of: life is precious. The good news is that these wonders of technology have dropped significantly in price in recent years. So why not take that few extra dollars in your pocket saved by not going south and splurge on a golf simulator. Competition has decreased prices and you can now get the most basic model for as low as $3,000. Imagine teeing it up and playing a full round with your clubs at all of the world's famed courses − from St. Andrews to Pebble Beach − right in the comfort of your living room, basement, den or garage? Check out offerings from companies such as Foresight Sports, Full Swing or TrackMan, to name just a few. Alternatively, search out a golf simulator with hourly rates in your area and book a time for you, or with friends.
If it's strictly the short game which you want to work on, and you don't want to invest as much money, consider purchasing an indoor putting mat. Practise that smooth stroke while watching your favourite Netflix series.
Hopefully, by the next time I write in this column, the world is one step closer to finding a vaccine and COVID-19 is slowly fading away. Until then, stay strong. Stay safe. Enjoy this winter wherever you are and keep on exercising so that you are golf ready when it's tee time again.
by David McPherson